Getting Married In West Virginia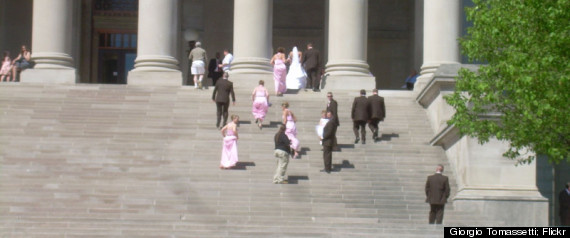 Planning a wedding is a big undertaking, to be sure. But sorting out the legal paperwork before you say "I Do" can be even more challenging. To help get you organized before your Big Day, The Huffington Post has put together a comprehensive, state-by-state guide to getting married. Read on for everything you need to know about getting hitched in West Virginia. --Joan Bahr
Residency Requirement And Waiting Period
West Virginia does not have a residency requirement for couples wishing to marry. If the bride or groom is a resident, they should apply together in the county where one of them resides. Licenses are issued the same day; there is no waiting period unless the applicants are minors, in which case the license will be issued in two days.
Age Requirement
The age of consent to marry in West Virginia is 18. Applicants between 16 and 18 years old must present valid written consent from parents or legal guardians. A court order is necessary if either applicant is younger than 16.
Marriage License
A West Virginia
marriage license costs
$36. It is valid for 60 days, and the couple must appear together at a county clerk's office to apply.
Legal Documentation
Couples wishing to marry in West Virginia must each present a valid birth certificate or driver's license. Passports or military IDs are also acceptable forms of identification and proof of age. If either the bride or groom has been married before, most counties will request proof of either the legal divorce or the death of the former spouse.
Witnesses And Officiants
In West Virginia, a religious representative, family court judge, circuit judge or a justice of the state Supreme Court can officiate marriage ceremonies. The officiant must perform a formal act in which the man and woman assume the status of husband and wife. Witnesses are not required.
Same-Sex Marriage
West Virginia does not allow same-sex marriage. According to the
West Virginia Legislative Code
, the marriage license application must contain the following statement: "Marriage is designed to be a loving and lifelong union between a woman and a man." In December 2011, the West Virginia MetroNews Network reported that John Doyle, a delegate from Jefferson County, would propose a bill to
legalize civil unions
as one of his last acts before retiring in 2012.
Did You Know?
The West Virginia Legislative Code specifically prohibits religious representatives from "soliciting" couples for marriage ceremonies, and clergy are not allowed to reward someone for directing a couple to a specific church or religious organization for a wedding. West Virginia does not recognize common-law marriage, and same-sex marriages that are valid in other states are not valid in West Virginia. On a different note, the state code also allocates a portion of each marriage license fee into a special fund to support local family protection shelters.
See the full set of laws and regulations regarding marriage in West Virginia.

A name change following marriage in West Virginia can be a hassle. It's a good idea to start by getting certified copies of your marriage certificate, filing a name change petition, then changing your name on your driver's license and vehicle registration. Name changes must also be submitted to your employer, as well as the Social Security Administration and the U.S. passport agency. Also consider changing your name on voter registration forms, bank accounts, credit cards, frequent-flier accounts and utilities providers.
Learn more about getting married in each of the 50 U.S. states here.