India: Martyrs' Day Peace March Beats Guinness World Record With Gandhi Costumes (PHOTOS)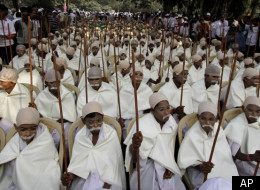 Nearly 500 young, bespectacled boys dressed as Mahatma Gandhi made the Guinness Book of World Records today as they participated in a peace march in Kolkata, India, according to The Times Of India. The peace march was part of the commemoration of Martyrs' Day, which marks the anniversary of Gandhi's death in 1948. The remembrance at the Raj Ghat memorial included prayers, a wreath-laying ceremony with India's president and prime minister, and two minutes of silence at 11 am.
Martyr's Day is also celebrated on the death anniversaries of a variety of other notable Indian leaders.
Below, see photos of the boys dressed as Gandhi and other pictures from the march: