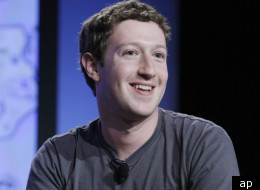 We knew Facebook was big -- you don't get to 800 million users without making a few bucks -- but until today, we didn't know just how big.
Facebook filed papers for an initial public offering on Wednesday, pulling back the curtains on the inner workings of the world's largest social networking site and opening a new phase in the company's ambitious plan to compile, and make money off of, our personal information. Facebook seeks to raise $5 billion in an IPO that looks likely to be the largest by a web company since Google in 2004 and could place the social network's value as high as $75 billion to $100 billion.
The portrait of Facebook that emerges in Facebook's over 150-page S-1 filing with the Securities and Exchange Commission is of a mature company -- by Silicon Valley standards -- already enjoying robust revenues thanks to a vast, active userbase churning out data for the site. Facebook CEO and co-founder Mark Zuckerberg also enjoys the use of a private plane, the filing revealed, and earned a base salary of $500,000 last year, more than triple the salary of Google co-founders Larry Page and Sergey Brin when Google filed for its IPO.
Facebook looks more seasoned than many of its Silicon Valley peers had when they announced plans to go public. According to the prospectus it filed with the SEC, Facebook has been profitable for the past three years. The company reported revenues of $3.7 billion last year, an 88 percent increase over the prior year, and earned a $1 billion profit, more than Google's total revenue the year it debuted on public markets. Facebook's income also dwarfs that of other internet companies that recently completed their IPOs. Zynga's profits totaled $90.6 million in 2010, for example, while LinkedIn had barely flirted with profitability when it filed for its IPO and Pandora was still hundreds of millions of dollars short of breaking even.
Advertising comprises a full 85 percent of Facebook's revenues, down from 98 percent in 2009. Zynga alone accounts for 12 percent of Facebook's total revenues, as the social gaming company must pay Facebook a cut of purchases made in Zynga's Facebook games.
Facebook revealed impressive statistics about its growing and active userbase, which totals 845 million members, more than half of whom, or 483 million, return to the site daily. These hundreds of millions of users have shared more than 100 petabytes (100 quadrillion bytes) of photos and videos with Facebook, and produced an average of 2.7 billion "likes" and comments a day in the final three months of 2011.
The company's stunning growth will prove difficult, if not impossible, to sustain, however. Facebook has reached a 60 percent penetration in the U.S. and U.K., according to the company's own estimates, and Facebook warned investors to expect its expansion to slow.
"We anticipate that our active user growth rate will decline over time as the size of our active user base increases, and as we achieve higher market penetration rates," Facebook wrote. "To the extent our active user growth rate slows, our business performance will become increasingly dependent on our ability to increase levels of user engagement in current and new markets."
Facebook users could also be wooed away by the very features the social network introduced, Facebook noted. The company has made a push to grow its platform and attract third-party app developers, such as the Washington Post and Spotify, to build apps that run on Facebook. But, the filing cautioned, "[o]ur efforts to expand the Facebook Platform may result in users increasingly engaging with our Platform developers' Facebook-integrated websites instead of engaging on Facebook, which may negatively affect our advertising revenue and harm our business."
Zuckerberg might dress the part of low-key Silicon Valley startup CEO, but the tech visionary has already made a mint, has a private plane at his disposal, and stands to make tens of billions of dollars off of Facebook's IPO.
Facebook's filing provides a glimpse into the scores of cash being accumulated by the company and doled out to its investors and employees.
Zuckerberg's base salary, which amounted to $500,000 in 2011, was the highest of any employee at Facebook. By contrast, Google co-founders Larry Page and Sergey Brin earned a salary of $150,000 each when Google filed for its IPO in 2004.
Facebook chief operating officer Sheryl Sandberg and chief financial officer David Ebersman tied for second place, with a base salary of $300,000 each. Yet Sandberg's total compensation in 2011, or $30,873,579, made her the highest paid of any Facebook employee, followed by Facebook's vice president of engineering Mike Schroepfer, who took home $24,727,128.
Zuckerberg owns 28 percent of the company, which could be worth $28 billion following the IPO, and the 27 year-old CEO plans to take a $1 per year salary beginning in 2013, much like former Apple CEO Steve Jobs did while at the helm of Apple.
Being CEO of Facebook comes with a few perks. The filing noted, "[o]ur compensation committee has also authorized our CEO and COO to use private aircraft for business purposes," and continued, "Mr. Zuckerberg may use private aircraft for personal purposes in connection with his comprehensive security program. On certain occasions, Mr. Zuckerberg may be accompanied by family members or others when using private aircraft."
In his letter to investors, Zuckerberg included a manifesto entitled "The Hacker Way" that spelled out the company's priorities and focus on delivering features first and improving later.
"Done is better than perfect" is painted on Facebook's walls, Zuckerberg wrote.
"The Hacker Way is an approach to building that involves continuous improvement and iteration. Hackers believe that something can always be better, and that nothing is ever complete. They just have to go fix it -- often in the face of people who say it's impossible or are content with the status quo," wrote Zuckerberg. "Hacking is also an inherently hands-on and active discipline. Instead of debating for days whether a new idea is possible or what the best way to build something is, hackers would rather just prototype something and see what works. There's a hacker mantra that you'll hear a lot around Facebook offices: 'Code wins arguments.'"
"We don't build services to make money," Zuckerberg added. "We make money to build better services."
Take a look at the slideshow (below) to view what Facebook thinks are the biggest threats to its future success.
Facebook Risks via S-1 (CLONED)
Perhaps the most eye-popping risk listed in the S-1 is the idea that Mark Zuckerberg's bad decision-making could lead to a decline in company value. Along with "users fleeing" and "decline in advertising revenue," the following was listed as a major risk factor: Our CEO has control over key decision making as a result of his control of a majority of our voting stock. Zuckerberg owns 28 percent of Facebook stock*, which means that he "has the ability to control the outcome of matters" that come before stockholders. Furthermore: As a stockholder, even a controlling stockholder, Mr. Zuckerberg is entitled to vote his shares, and shares over which he has voting control as a result of voting agreements, in his own interests, which may not always be in the interests of our stockholders generally. Should stockholders fear the man who controls the company they hold stock in? *While Zuckerberg owns roughly 28 percent of Facebook shares, an additional 30 percent of shares are subject to voting proxy by Zuckerberg, giving the CEO a total voting power over nearly 57 percent of the company.

According to the filing: If we fail to retain existing users or add new users, or if our users decrease their level of engagement with Facebook, our revenue, financial results, and business may be significantly harmed. Just ask Rupert Murdoch and MySpace what happens to a site's value when all of the users flock elsewhere. One thing that happens: Advertising revenue drops (as noted in the S-1), and given that 85 percent of Facebook's revenue came from advertising in 2011, a loss of visitors would (obviously) doom Facebook.com. Zuck and co. better hope those rumors of a mass teenage exodus from Facebook to Twitter are untrue.

From the S-1: Unfavorable media coverage could negatively affect our business. Facebook has seen its share of negative media coverage, especially due to privacy concerns and controversial design overhauls; if the media narrative becomes too overwhelmingly negative, Facebook fears that users may be turned off and may run away.

Facebook doesn't currently display ads on its mobile properties, which means that it is not making much revenue from its iPhone and Android apps. This also means that if there is a wireless revolution that sees members visiting Facebook via smartphone and tablet devices more often than desktop and laptop units, Facebook's ad revenue could decrease significantly. Since Facebook's annual ad revenue has never been lower than 85 percent, the company would find itself with a major cash-flow problem. Or, as Facebook puts it: [I]f users continue to increasingly access Facebook mobile products as a substitute for access through personal computers, and if we are unable to successfully implement monetization strategies for our mobile users, our revenue and financial results may be negatively affected.

"Our business is highly competitive," reads the S-1. "Competition presents an ongoing threat to the success of our business." Having successfully toppled MySpace and Friendster, Facebook knows what kind of a threat upstarts represent. And Facebook goes so far as to list, by name, the social networks it's watching: We compete broadly with Google's social networking offerings, including Google+, and also with other, largely regional, social networks that have strong positions in particular countries, including Cyworld in Korea, Mixi in Japan, Orkut (owned by Google) in Brazil and India, and vKontakte in Russia. You might be snickering at the idea that Google+ is legitimate competition for Facebook, but Facebook doesn't seem to be laughing or buying into the eulogies for G+ that have already been written. Having just passed 100 million users (according to unofficial stats), perhaps Google+ really is a threat.

Perhaps written by Facebook's Tea Party contingent, Facebook sees government over-regulation as a threat to its growth and success. Facebook lists Iran, Syria and North Korea as examples of countries where government has already stifled its business: It is possible that governments of one or more countries may seek to censor content available on Facebook in their country, restrict access to Facebook from their country entirely, or impose other restrictions that may affect the accessibility of Facebook in their country for an extended period of time or indefinitely. Facebook also pointed out elsewhere that "complex and evolving U.S. and foreign laws and regulations regarding privacy, data protection, and other matters" cost money to adhere and adapt to.

Did you hate the new Facebook? How about the new new Facebook? The Ticker? The Newsfeed? The Timeline profile? Well, all of those changes over time -- and, yeah, they come often and they come in big ambitious chunks -- could also repel users, according to Facebook's filing: If new or enhanced products fail to engage users, developers, or advertisers, we may fail to attract or retain users or to generate sufficient revenue, operating margin, or other value to justify our investments, and our business may be adversely affected. (Mark Zuckerberg is currently listening to "Everything's Gonna Be Alright" on Spotify.)

Facebook makes 85 percent of its revenue through advertising. 12 percent of this revenue comes through Zynga, makers of Farmville, Cityville, Castleville, and a number of other incredibly successful Facebook platform-based games that both do and do not end in "-ville." Should Zynga's popularity falter -- or should the relationship between Facebook and Zynga sour -- Facebook could take a huge financial hit. Facebook's full reckoning as to what Zynga means to their success: In 2011, Zynga accounted for approximately 12% of our revenue, which amount was comprised of revenue derived from payments processing fees related to Zynga's sales of virtual goods and from direct advertising purchased by Zynga. Additionally, Zynga's apps generate a significant number of pages on which we display ads from other advertisers. If the use of Zynga games on our Platform declines, if Zynga launches games on or migrates games to competing platforms, or if we fail to maintain good relations with Zynga, we may lose Zynga as a significant Platform developer and our financial results may be adversely affected.

China represents a gigantic user base that Facebook has yet to penetrate. It clearly views the huge Asian nation as the next frontier, though it remains unclear whether it'll be allowed to enter the market, and if it is, whether it will be able to unseat current Chinese social networking incumbents Renren, Sina and Tencent. From the S-1: We may enter new international markets where we have limited or no experience in marketing, selling, and deploying our products. For example, we continue to evaluate entering China. However, this market has substantial legal and regulatory complexities that have prevented our entry into China to date. If we fail to deploy or manage our operations in international markets successfully, our business may suffer. And later: China is a large potential market for Facebook, but users are generally restricted from accessing Facebook from China. We do not know if we will be able to find an approach to managing content and information that will be acceptable to us and to the Chinese government.