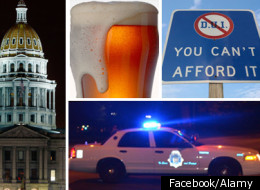 State Rep. Laura Bradford has had a rough couple weeks. In late January she was pulled over by Denver Police for erratic driving and accused of invoking legislative immunity to avoid a DUI. Following reports of her alleged "get out of jail free" card, Bradford was suspended from her post on the Local Government Committee and faces an ethics committee investigation.
The bizarre meter cranked even higher on Tuesday, when Denver Police Department spokesman Matt Murray apologized for DPD's mishandling of the situation. While he maintains responding officers had no legal choice but to call a taxi for Rep. Bradford, he also said the Representative did not asked for immunity, despite earlier statements she had.
Murray also said when the taxi arrived, the sergeant on scene asked Bradford if she had anything valuable in her car. Bradford told officers she had a firearm in the vehicle. Having a firearm while intoxicated is a misdemeanor in Colorado, though the sergeant on scene instructed the responding officer not to tell anyone. DPD has launched an investigation into this matter.
Further inquiry into the 'legislative function' that granted Rep. Bradford immunity reveals it may have been a "weekly lobbyist happy hour," according to ColoradoPols.
Meanwhile, Bradford today said she may leave the Republican Party. A Denver Post report attributes the possibility to the ethics investigation against her. "I'm frustrated by the lack of the support, not just over the last five days but during last session, too," Bradford told the paper.
"There's no need for me to resign. I'm not resigning. I'm here to do the people's work," Bradford told 9NEWS on Wednesday. "I'm going to vigorously fight the Ethics Committee's actions to reach a conclusion of complete and total vindication and exoneration."
A Bradford departure from the Republican Party could have a broad impact on Colorado's political dynamic. Republicans currently hold a one seat majority in the House over Democrats, 33-32. Should Bradford become an Independent, House leadership would have to re-elect a speaker in an inevitably messy affair. However, if Bradford affiliates with Democrats as ColoradoPols suggests, "well, it's a lot simpler then."
Or, as former Speaker of the House Terrance Carroll puts it:
@speakercarroll

Terrance Carroll
If Rep. Bradford switches parties , the ramifications would be enormous. Everything would change!
http://t.co/xpO3sXuc