Black History Month Comedy Roundtable: From Pryor To Patrice, Black Comedians Then & Now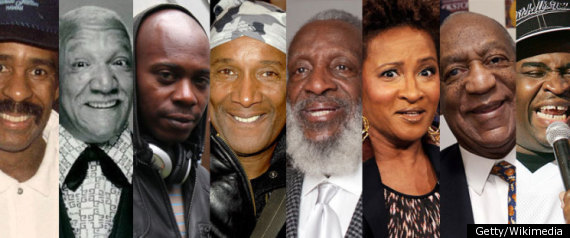 Desiree:
I'm a big fucking Mo'Nique fan because she's dirty like me and I love her.
Calise: I'm a big Chappelle fan too.
Desiree: Oh God, yea.
Calise: If Chappelle's out, I get so excited if I happen to be in the same club. I'm like, "Holy shit I'm gonna see Chappelle!" I want to see Chappelle do nothing for an hour, I can't wait!
Kamau: Move to San Francisco, he comes here every 6 weeks.
Desiree: And I haven't seen Kamau, I haven't seen a lot of your stuff, so I can't jump on the lovely train for you, but I can jump on the Baron train.
Calise: Baron I think you're one of the most interesting people I've ever seen on stage. You're such an entertainer. I saw him last time at Hannibal's show at the Knitting Factory. And Baron's gotten to another level of what he's doing.
Baron: Actually Kamau's on my list. I like Kamau's comedy and I like that you say that you're not specifically political, which I totally agree with. Your opinion, it's so effortless, what you do on stage. And it's so infuriating. I'm like, "God! It seems so easy when you do it," and then I'm like, "That's not easy though!"
W. Kamau Bell in 'The W. Kamau Bell Curve'



Baron: And Dwayne Perkins who has become a friend is, I think, another comedian who makes it look very easy. And someone who I don't see performing as much as I would like to anymore because she's on "Parks and Recreation" now is Retta.
Desiree: She's so amazing, I love her.
Baron: She has such a presence, a commanding presence on stage, and talks about what the hell she wants to talk about.
Retta on Comedy Central



Calise: Michael reminds me a little bit of all the great guys I like. He's got a little bit of essence from Chappelle, a little bit of Patrice, a little bit of Chris Rock. Honestly, he has the essence of greatness developing right here. This is one of the guys to watch for sure.
Michael Che at the New York Comedy Festival



Phoebe: Lamont Price, he's a Boston guy. Lamont is amazing. He did Montreal and Aspen last year and he's very, very funny. Very brilliant. So yea, he's one of my favorites to watch. He's a beast in training.
Kamau: I'm also a huge fan of Hannibal. Here's a term that gets thrown around a lot, but Hannibal to me seems totally post-racial. Even though he's absurd, and he speaks in absurdities and it's all sort of crazy stuff, you really feel the presence of a very strong black man on stage. I love watching Paul Mooney. From the standpoint where I might not agree with everything he says, but there's something about the fact that that's a 70-year-old man on stage firing jokes at seemingly the top of his game. And I worked with Dick Gregory a couple times and I was amazed at how good he was, in his late 70s.
Baron: I was hoping you were going to bring them up. Paul Mooney, when you guys were talking about Patrice I kept thinking about Paul in some sort of way. Just because it's like they're of the same ilk. And Mooney is still doing it. I've seen him maybe three times, and just the way that he does a show and how he starts off... he walks people and he loves it.
Kamau: He escorts people out of the room.
Baron: And he will talk at them. "Get the fuck out of my room you fucking..." Oh, it's kind of amazing.
HuffPost: Along the lines of Mooney and Gregory, who were the most influential comedians for you, black or white, when you were a first exposed to comedy?
Michael: Damon Wayans. Other than Eddie Murphy, Damon Wayans was probably the first comedian...like the whole Wayans thing, like the "Hollywood Shuffle" and the "I'm Gonna Git You, Sucka" movies, and then "In Living Color" came out, like that was comedy to me. I think [Chris Rock's] "Bring The Pain" was, kind of, for my generation, the perfect storm of "Wow that's what a stand-up comedian can do."
Desiree: I think Bill Cosby "Himself" was the first thing I saw that was like comedy. And then Eddie Murphy, "Raw" and "Delirious" and I was like, "Ahhhh". And then Chris Rock came around when I was in college, and I was like, "Oh shit! Yes! Yes!" But I think my bigger influences, or just people that I was like, "This is what I want to do in comedy," have been Eddie Izzard and Bill Hicks.
Calise: What probably got me very interested was when I saw Andy Kaufman. I saw him when I was in college. A friend of mine showed me his special, and I was like, "Woah, who is this guy? What is he doing? What's his life like?" Andy Kaufman, Dave Chappelle, Billy Burr, Patrice O'Neal. That's my top four.
Kamau: One I would say that has been said before, but I can also relate myself to is Bill Hicks. When I heard Bill Hicks "Relentless", I was like, "That's how you can be a comedian?"
Baron: I have three paintings in my apartment, which are Pryor, Cosby, and Steve Martin. Those are probably my biggest 3 influences. And Eddie Murphy. And Robert Townsend, who was responsible for the "Partners In Crime" specials on HBO which I saw. And that was like the beginning of black sketch. If you saw "Partners In Crime", you saw all the Wayanses, but then you had Kim Coles, and you had Franklyn Ajaye, and you had Paul Mooney, and you had Robin Harris, and you had David Alan Grier...
Robert Townsend and His Partners in Crime