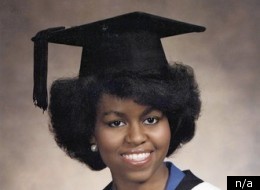 Do you know where "Lou" Hoover went to college? Curious to see Lucretia Garfield in her younger years? What are the names of Grace Coolidge's two pet raccoons? Did Julia Grant have permanently crossed eyes? Look no further than HuffPost College's "First Ladies In College" slideshow!
While the presidents were studying at Harvard, Yale and William and Mary, their counterparts were generally at finishing school, learning needlework and deportment. Sometimes, though, they actually went to college.
Check out our slideshow of first ladies in college! Then tell us: who is your role model? Weigh in below!
America's First Ladies In College
At the age most people enter their freshman year of college, Martha Washington was already married, but not to Washington. At 18, Washington wedded Daniel Custis, a man 20 years her senior. When he died seven years later, she was a wealthy widow. 2 years later, she married the fateful George and the rest is history.

Despite her lack of formal schooling (later in life she was embarrassed that she could not speak French) Adams was a formidable intellect, famously advising Adams to "remember the ladies" in political affairs.

Martha Jefferson Randolph, Thomas Jefferson's daughter who served as first lady after his wife died, was apparently considered quite the intellectual. When her father was in France, she was schooled at a convent.

Dolley Madison, James Madison's spirited wife, had no formal education on record. However, she was apparently accused of having an affair with Thomas Jefferson (!?)

There is very little record of how Monroe was educated. It is thought she may have studied with a private tutor, considering her family was extremely august. She was apparently a very stylish dresser, who preferred to entertain in a reserved European manner.

Louisa Adams was briefly educated at a convent school in France. She was the only first lady to have been born outside the US, having been born in England. Adams apparently suffered terribly from depression in the latter part of her life, preferring drawing room parties to expansive entertaining.

Emily Donelson was the niece of Andrew Jackson's wife, who died right before he assumed the presidency -- partially some say, out of stress over the fact that she was being accused of bigamy by Jackson's opponents. (They claimed she had an affair with Jackson before she married him and that their marriage was illegal. This scandal apparently exacerbated her heart condition). Donelson inherited a sticky situation, which she bore with grace. She was well educated for the time, attending the Nashville Female Academy.

Angelica Singleton Van Buren was Martin Van Buren's daughter-in-law, who acted as first lady since Van Buren was a widower. After she debuted in her new role, a newspaper proclaimed her "a lady of rare accomplishments, free and vivacious in her conversation." She was educated at Madame Grelaud's Seminary in Pennsylvania, where she apparently learned things such as "grammar" and "deportment".

Anna Harrison received a very good education for a woman of her time, attending Clinton Academy and even going to boarding school.

Julia Gardiner Tyler, whose family owned (and still owns) New York Gardiner's Island, was educated at Madame N.D. Chagaray Institute for Young Ladies in New York City. She was apparently quite pretty and once posed for a department store ad. This was quite shocking for polite society.

Sarah Childress Polk was intensely well-educated for a woman of her time, attending the Moravian Female Academy and even learning Latin and Greek! She would apparently mark articles in newpapers for her husband to read and leave them outside his door.

Zachary Taylor's wife Margaret was educated at home. She hated entertaining and remained absent from Washington social life, leading to rumors that she was an uneducated frontier harridan who smoked a pipe.

Abigail Fillmore learned far more than the average girl her age, despite her family's poverty, due to her deceased father's extensive library. She later established a library for the White House.

Despite the fact that her father was the president of Bowdoin College, Jane Pierce did not receive higher education, although she did attend boarding school in Keene, New Hampshire. Her life was overcome by tragedy when her son was beheaded in front of her during a horrific train accident. She felt that this was a judgement on her husband's ambitions and spent her years in the White House confined to her rooms, writing long letters to her dead son.

Harriet Lane, James Buchanan's niece, acted as first lady because her uncle never married. She attended Georgetown Visitation Convent and Miss Crawford's Boarding School. Vivacious and lively, she had many boyfriends who she termed, "pleasant but dreadfully troublesome."

Mary Todd Lincoln was extremely well-educated for her time, acquiring much of her knowledge from a French woman named Madame Charlotte Mentelle. Lincoln, for his part, respected her intelligence. "I heard him say he had no need to read a book after Mary gave him a synopsis," Mary's half-sister Emilie Todd Helm once said.

Eliza Johnson was educated in a log cabin school called Rhea Academy. She apparently read books to her husband Andrew Johnson.

Julia Grant was reputed to be a bad student at Misses Mauros' boarding school. Later, when she became first lady, a magazine called Godey's Lady's Book wrote of her, "she ain't near as handsome as you think and keeps the lights low so no one can see her well."

Lucy Webb Hayes may have not officially attendied college, but she is the first first lady to have attended some college classes! While her brothers were students at Ohio Wesleyan University, she took some college prep courses there unofficially (women weren't allowed to be students yet.) She apparently met Rutherford for the first time on the campus. When she was first lady, one reporter for the New York Herald described her thus; "Mrs. Hayes is a most attractive and lovable woman."

Lucretia Garfield was an outstanding student at Hiram College, (which was then known as Western Reserve Eclectic Institute). She met classmate Garfield on the campus, making them the first (full-time) college sweethearts! Their courtship was not all a bed of roses, however. Garfield wrote in his diary that, although he respected Lucretia's talents, he "found her dull." They got married eventually though.

Mary Arthur McElroy was Chester A. Arthur's sister. She acted as first lady because Arthur was a widower. She attended the Emma Willard School Seminary in New York and studied to be a teacher there.

Frances Cleveland attended Wells College in New York, where she was a member of the debate team. At 21, she was the youngest first lady ever, as 49-year-old Cleveland proposed to her in the year after she graduated Wells. He had known her since she was a baby. Cleveland Hall on the Wells College campus was named in honor of her.

Caroline Harrison attended Oxford Female Institute, which was later subsumed into the Miami University campus. Her father was a science professor who opened the all-female institute himself.

Ida Saxton McKinley did not attend college, but did go to the best finishing schools and a tour of Europe. After her tour, she worked as a cashier in her father's bank. Occasionally, she would step in and manage the bank when her father was out of town. Later, she suffered from frequent seizures, which sometimes interrupted official functions.

Edith Kermit Carow Roosevelt did not attend college, possibly due to her father's financial mismanagement. But her education was not entirely neglected. She attended Miss Comstock's finishing school, where science and math were not taught.

Mrs. Taft studied German and history at Miami University and later studied music at the University of Cincinnati. She briefly considered a musical career before her marriage.

Ellen Wilson enjoyed most of her schooling in Georgia and also studied art in New York City.

Edith Wilson spent a brief time at Martha Washington College but dropped out after 2 terms.

For a transitory, halcyon time, Florence Harding was a student at the Cincinnati Conservatory of Music--until her father pulled her out because he didn't like her companions. At 19, she was pregnant. Two years later she would be abandoned by the man she said was her husband. At 31, she was married to Warren G. Harding, newspaper magnate and unrepentant philanderer. Mrs. Harding ended up running much of her husband's paper, with one newspaperman saying that success of the paper depended on Mrs. Harding's "energy and business sense."

Grace Coolidge, sorority girl! While in college, Coolidge was one of the founding members of the Pi Beta Phi sorority at UVM. While in the White House, she had a pet raccoon named Rebecca and another pet raccoon named Reuben.

"Lou" as Mrs. Hoover was called, was the only female geology major at Stanford University when she enrolled in 1894. She met future president Hoover in college. He was also a geology major. Later, when the Hoovers were living in China, she became very good at speaking Chinese.

Eleanor Roosevelt was educated in London at the Allenswood Academy. There, she was exposed to " liberal causes and [the] detailed study of history." The experience greatly shaped her life and prepared her for her life in public service.

Bess Truman went to Independence High School in Missouri with her eventual husband. She later studied language at Barstow, a finishing school in Kansas.

Mamie Doud, as she was then called, did not go to college, but attended Miss Wolcott's finishing school in Denver, where she was a sought-after society belle.

Jacqueline Bouvier attended Vassar College in Poughkeepsie, NY where she studied French and made the dean's list. She spent a year studying abroad in Paris before transferring to GW for her last year.

Lady Bird was industrious in college. She attended the University of Texas, graduating with a degree in history in 1933, and a degree in Journalism in 1934. She also got a certificate in teaching.

Pat Nixon got her degree in merchandising from USC in 1937. An orphan in her teens, the young Miss Ryan, as she was then known, supported herself by working as an extra in films.

An accomplisher dancer, Betty Bloomer studied the craft in Michigan, going to Bennington College for summer instruction and even taking lessons from Martha Graham in New York City.

Rosalynn Carter went to Georgia Southwestern College in 1944. The Rosalynn Carter Institute for Caregiving at the college is named in her honor.

Nancy Reagan, the daughter of an actress, majored in theatre at Smith College. She performed in a play called "Susan and God" and was part of a theatre troupe called "Ladies on the Loose."

Barbara Bush briefly attended Smith College but dropped out freshman year to marry Bush 1. "At the end of your life, you will never regret not having passed one more test, not winning one more verdict or not closing one more deal. You will regret time not spent with a husband, a child, a friend or a parent," Bush told Wellesley's class of 1990.

Our current Secretary of State distinguished herself at Wellesley College. She was president of the student government and wrote her thesis on community organizer Saul Alinsky. She later attended Yale Law School.

Laura Bush graduated from this Texas University in 1968. She told 2009 graduates, "The bonds formed at SMU are strong, and no matter how many years you've been away, I hope that you'll find, like I have, that coming back to SMU feels like coming home."

The first first lady to attend an Ivy League University for undergrad, (and the second one to attend an Ivy League at all) Michelle Obama is one of the most academically accomplished first ladies. She skipped second grade, graduated salutatorian at her magnet high school for gifted students, went to Princeton (graduating cum laude) and then Harvard Law School.