Lasagna is one of those dishes that just makes people feel better. Lasagna recipes embody everything we love about pasta, and it comes served in a cheese-crusted casserole dish; it is the quintessential comfort food. And what do we love more than comfort food? Absolutely nothing.
Many of us only enjoy this Italian classic when eating out, but lasagna recipes are actually a really simple meal to make at home -- and it's almost guaranteed to turn out well (really, can you ever really go wrong with pasta, sauce and cheese all baked together?). We've put together 41 incredible lasagna recipes to show you how easy (and delicious) this classic can be when made at home -- whether you prefer simplicity or like to think a bit outside of the box, we've got a recipe for you. Three of our favorites are below, but scroll down to see the full slideshow!
Butternut Squash Skillet Lasagna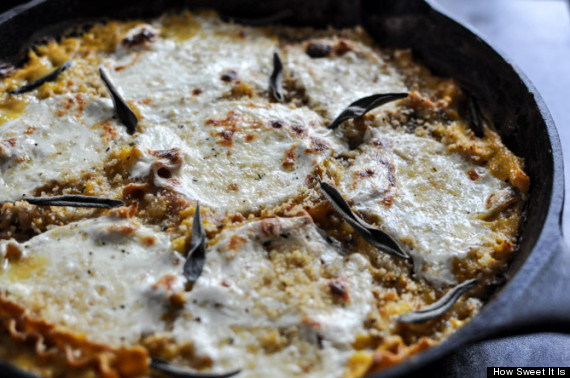 Get the Butternut Squash Skillet Lasagna Recipe by How Sweet It Is
You really can't get more comforting than butternut squash, a cast iron skillet, and cheesy lasagna. This recipe wins fall.
Spinach Artichoke Lasagna Roll Ups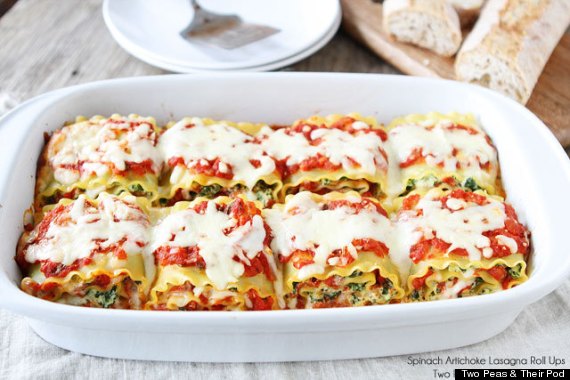 Get the Spinach Artichoke Lasagna Roll Ups Recipe by Two Peas & Their Pod
Turning lasagna into rolls is an easy way to make it easier to cut, eat, and share -- that is, if you don't plan on eating it all yourself.
Homemade Sausage Lasagna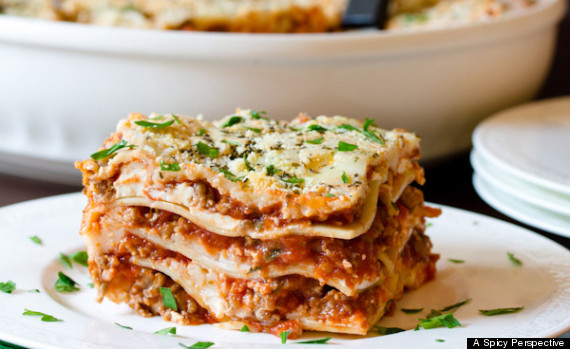 Get the Homemade Sausage Lasagna Recipe by A Spicy Perspective
This recipe is the perfect modern update on a classic -- it calls for cream cheese instead of ricotta.
Are you hooked on homemade lasagna yet? Check out all 41 recipes below.
Want to read more from HuffPost Taste? Follow us on Twitter, Facebook, Pinterest and Tumblr.
Loading Slideshow
Skillet Lasagna

<strong>Get the <a href="http://www.annies-eats.com/2012/11/28/skillet-lasagna/" target="_blank">Skillet Lasagna Recipe</a> by Annie's Eats</strong>

Pesto Artichoke Lasagna Rolls

<strong>Get the <a href="http://passthesushi.com/pesto-artichoke-lasagna-rolls/" target="_blank">Pesto Artichoke Lasagna Rolls Recipe</a> by Pass the Sushi</strong>

White Pizza Lasagna

<strong>Get the <a href="http://www.howsweeteats.com/2013/06/white-pizza-lasagna/#more-32514" target="_blank">White Pizza Lasagna Recipe</a> by How Sweet It Is</strong>

Springtime Veggie Skillet Lasagna

<strong>Get the <a href="http://www.howsweeteats.com/2013/04/springtime-veggie-skillet-lasagna/" target="_blank">Springtime Veggie Skillet Lasagna Recipe</a> by How Sweet It Is</strong>

Eggplant Lasagna

<strong>Get the <a href="http://www.bellalimento.com/2011/11/02/eggplant-lasagna-lasagne-con-melanzane/" target="_blank">Eggplant Lasagna Recipe </a>by Bell'alimento</strong>

Spinach, Mushroom And Turkey Lasagna

<strong>Get the <a href="http://www.heathersdish.com/1/weeknight-spinach-mushroom-and-turkey-lasagna/" target="_hplink">Spinach, Mushroom and Turkey Lasagna r=Recipe</a> by Heather's Dish</strong>

Classic Lasagna

<strong>Get the <a href="http://www.annies-eats.com/2010/01/04/classic-lasagna/" target="_blank">Classic Lasagna Recipe</a> by Annie's Eats</strong>

Mexican Lasagna

<strong>Get the <a href="http://www.annies-eats.com/2012/03/28/mexican-lasagna/" target="_blank">Mexican Lasagna Recipe</a> by Annie's Eats</strong>

Leftover Turkey (or Chicken) Lasagna Rolls with Sun-Dried Tomatoes & Spinach {Low Fat}

<strong>Get the<a href="http://www.cookincanuck.com/2012/11/leftover-turkey-or-chicken-lasagna-roll-recipe-with-sun-dried-tomatoes-spinach-low-fat/" target="_blank"> Leftover Turkey (or Chicken) Lasagna Roll Recipe with Sun-Dried Tomatoes & Spinach {Low Fat} </a>by Cookin' Canuck</strong>

Homemade Sausage Lasagna

<strong>Get the <a href="http://www.aspicyperspective.com/2012/10/homemade-lasagna-sausage.html" target="_blank">Homemade Sausage Lasagna Recipe</a> by A Spicy Perspective</strong>

Roasted Butternut Squash Lasagna With Goat Cheese, Bacon And Fried Sage

<strong>Get the <a href="http://food52.com/recipes/7297-roasted-butternut-squash-lasagna-with-goat-cheese-bacon-and-fried-sage" target="_blank">Roasted Butternut Squash Lasagna with Goat Cheese, Bacon, and Fried Sage Recipe </a>by perrysplate via Food52</strong>

Butternut Squash Skillet Lasagna

<strong>Get the <a href="http://www.howsweeteats.com/2012/10/butternut-squash-skillet-lasagna/" target="_blank">Butternut Squash Skillet Lasagna Recipe</a> by How Sweet It Is</strong>

Summer Vegetable Lasagna

<strong>Get the <a href="http://www.annies-eats.com/2012/08/20/veggie-lasagna/" target="_blank">Summer Vegetable Lasagna Recipe</a> by Annie's Eats</strong>

Pane Carasau and Lamb Deep Dish Lasagna

<strong>Get the <a href="http://food52.com/recipes/8346-pane-carasau-and-lamb-deep-dish-lasagna" target="_blank">Pane Carasau and Lamb Deep Dish Lasagna Recipe</a> by thirschfeld/Food52</strong>

Kale, Mushroom & Sun-Dried Tomato Lasagna Rolls

<strong>Get the <a href="http://www.cookincanuck.com/2013/07/kale-mushroom-lasagna-sun-dried-tomato-lasagna-roll-recipe-vegetarian/" target="_blank">Kale, Mushroom & Sun-Dried Tomato Lasagna Rolls Recipe</a> by Cookin' Canuck</strong>

Mushroom Kale Lasagna Rolls

<strong>Get the <a href="http://www.skinnytaste.com/2012/11/mushroom-kale-lasagna-rolls.html" target="_blank">Mushroom Kale Lasagna Rolls Recipe</a> by Skinny Taste</strong>

Lasagna Soup

<strong>Get the <a href="http://passthesushi.com/lasagna-soup/" target="_blank">Lasagna Soup Recipe</a> by Pass the Sushi</strong>

Vegetarian Spinach and Mushroom Lasagna

<strong>Get the <a href="http://www.simplyrecipes.com/recipes/vegetarian_spinach_and_mushroom_lasagna/" target="_blank">Vegetarian Spinach and Mushroom Lasagna Recipe</a> by Simply Recipes</strong>

Lasagna Bolognese

<strong>Get the <a href="http://www.huffingtonpost.com/2012/02/01/classic-lasagna_n_1248338.html" target="_hplink">Lasagna Bolognese Recipe</a> </strong>

Healthy Spinach Lasagna Rolls

<strong>Get the <a href="http://www.the-girl-who-ate-everything.com/2011/04/spinach-lasagna-rolls.html" target="_hplink">Healthy Spinach Lasagna Rolls Recipe</a> by The Girl Who Ate Everything</strong>

Vegan Ricotta And Spinach Lasagna

<strong>Get the <a href="http://quicheaweek.wordpress.com/2012/08/17/vegan-ricotta-and-spinach-lasagna-for-two/" target="_hplink">Vegan Ricotta And Spinach Lasagna Recipe</a> by Quiche A Week</strong>

Free-Form Sausage-And-Three-Cheese Lasagna

<strong>Get the <a href="http://www.huffingtonpost.com/2011/10/27/free-form-sausage-and-thr_n_1058393.html" target="_hplink">Free-Form Sausage-and-Three-Cheese Lasagna Recipe</a></strong>

Lasagna With Mushrooms And Lamb Sausage

<strong>Get the <a href="http://www.huffingtonpost.com/2011/10/27/lasagna-with-mushrooms-an_n_1058515.html" target="_hplink">Lasagna with Mushrooms and Lamb Sausage Recipe</a></strong>

No-Bake Summer Vegetable Lasagna

<strong>Get the <a href="http://www.gimmesomeoven.com/no-bake-summer-vegetable-lasagna/" target="_blank">No-Bake Summer Vegetable Lasagna Recipe </a>by Gimme Some Oven, adapted from <a href="http://www.marthastewart.com/everyday" target="_blank">Everyday Food</a></strong>

Cauliflower Puree And Spinach Lasagna

<strong>Get the <a href="http://www.huffingtonpost.com/2011/10/27/cauliflower-puree-and-spi_n_1059272.html" target="_hplink">Cauliflower Puree and Spinach Lasagna Recipe</a></strong>

Sausage and Ricotta Lasagna

<strong>Get the <a href="http://www.foodiecrush.com/2013/01/sausage-and-ricotta-lasagna-and-a-food-blogging-dinner/" target="_blank">Sausage and Ricotta Lasagna Recipe</a> by Foodie Crush</strong>

Pumpkin Lasagna

<strong>Get the <a href="http://www.preventionrd.com/2010/09/pumpkin-lasagna/" target="_hplink">Pumpkin Lasagna Recipe</a> by Prevention RD</strong>

Mushroom Lasagna

<strong>Get the <a href="http://www.ledelicieux.com/recipes/vegetarian-christmas-part-2-mushroom-lasagna/" target="_blank">Mushroom Lasagna Recipe</a> by Delicieux</strong>

Healthy Lasagne Recipe With Turkey, Pesto & Peppers

<strong>Get the <a href="http://www.cookincanuck.com/2012/01/healthy-lasagne-recipe-with-turkey-pesto-peppers/" target="_hplink">Healthy Lasagne Recipe with Turkey, Pesto & Peppers Recipe</a> by Cookin' Canuck</strong>

Spinach Artichoke Lasagna Roll Ups

<strong>Get the <a href="http://www.twopeasandtheirpod.com/spinach-artichoke-lasagna-roll-ups/" target="_blank">Spinach Artichoke Lasagna Roll Ups Recipe</a> by Two Peas & Their Pod</strong>

Healthy Chicken & Spinach Lasagna Recipe

<strong>Get the <a href="http://www.cookincanuck.com/2013/06/healthy-chicken-spinach-lasagna-recipe/" target="_blank">Healthy Chicken & Spinach Lasagna Recipe</a> by <a href="http://www.allparenting.com/my-table/articles/967839/chicken-and-spinach-lasagna" target="_blank">allParenting</a>, via Cookin' Canuck</strong>

Seafood Lasagna with Creamy White Sauce

<strong>Get the <a href="http://www.thisgalcooks.com/2013/06/04/seafood-lasagna/" target="_blank">Seafood Lasagna with Creamy White Sauce Recipe</a> by This Gal Cooks</strong>

Chicken Enchilada Lasagna

<strong>Get the <a href="http://bevcooks.com/2012/09/chicken-enchilada-lasagna/" target="_blank">Chicken Enchilada Lasagna Recipe</a> by Bev Cooks</strong>

Butternut Squash and Spinach Lasagna Rolls

<strong>Get the <a href="http://www.skinnytaste.com/2013/09/butternut-squash-and-spinach-lasagna.html" target="_blank">Butternut Squash and Spinach Lasagna Rolls Recipe</a> by Skinny Taste</strong>

Turkey Pastelón (Sweet Plantain Lasagna)

<strong>Get the <a href="http://www.skinnytaste.com/2013/09/turkey-pastelon-sweet-plantain-lasagna.html" target="_blank">Turkey Pastelón (Sweet Plantain Lasagna) Recipe</a> by Skinny Taste</strong>

Spaghetti Squash Lasagna

<strong>Get the <a href="http://www.skinnytaste.com/2011/09/spaghetti-squash-lasagna.html" target="_blank">Spaghetti Squash Lasagna Recipe</a> by Skinny Taste</strong>

Zucchini Lasagna

<strong>Get the<a href="http://www.skinnytaste.com/2009/02/zucchini-lasagna.html" target="_blank"> Zucchini Lasagna Recipe</a> by Skinny Taste</strong>

Ravioli Skillet Lasagna

<strong>Get the <a href="http://bevcooks.com/2013/04/ravioli-skillet-lasagna-tablespoon-tuesdays/" target="_blank">Ravioli Skillet Lasagna Recipe </a>by Bev Cooks</strong>

Spicy Kale Lasagna

<strong>Get the <a href="http://www.annies-eats.com/2011/03/01/spicy-kale-lasagna/" target="_blank">Spicy Kale Lasagna Recipe</a> by Annie's Eats</strong>

White Lasagna Cupcakes

<strong><a href="http://www.huffingtonpost.com/2011/10/27/white-lasagna-cupcakes_n_1060863.html" target="_hplink">White Lasagna Cupcakes Recipe</a></strong>

White Chicken Lasagna

<strong>Get the <a href="http://www.pipandebby.com/pip-ebby/2012/5/20/white-chicken-lasagna.html" target="_blank">White Chicken Lasagna Recipe</a> by Pip & Ebby</strong>