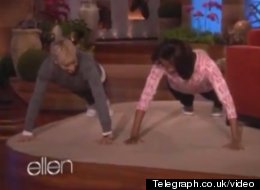 Just how fit is our First Lady? Watch her use those famous, enviably chiseled guns to best talk show host Ellen DeGeneres.
Both women, well into middle age (Obama is 48 and DeGeneres is 54), put up good numbers -- though Obama clearly took the lead, easily completing 25 push ups with perfect form and the stamina to keep going. The FLOTUS is also proficient in playfully talking smack. When DeGeneres asked for an opinion on who could do more push-ups, Obama replied: "It depends on how your back is -- I know you have these back issues."
For anyone who has followed the First Lady's efforts to improve physical fitness for Americans, none of this should be surprising: she was on "Ellen" to promote her "Let's Move" campaign. Previously, she broke the Guiness World Record for the most jumping jacks. For more FLOTUS fitness moments, check out Healthy Living's retrospective of Obama's 2011 athletic achievements here:
Long before she was in the public eye, Michelle Obama understood the importance of regular exercise. While still in Chicago, she enlisted the help of trainer and fitness center owner Cornell McClellan. A few years later, McClellan started working with the future president, as well. He even moved to D.C. to continue assisting the First Family and contribute to the President's Council on Fitness, Sports & Nutrition. So what kinds of routines does McClellan favor for Mrs. O? "We do a lot of strength, interval stuff, yoga, boxing, all kinds of stuff," he told Self recently. "They're the best clients -- they're always motivated."

The FLOTUS showed off her perfect form to former Anglican Archbishop Desmond Tutu at a youth event promoting HIV/AIDS awareness in Cape Town in February. Hope Sasha and Malia and cousins Avery and Leslie Robinson, all of whom came along, were taking notes.

Along with more than 300,000 participants, Michelle Obama managed to break the Guinness World Record for the most people doing jumping jacks in a 24-hour period. While the majority of the participants gathered at separate events all around the country, the first lady was joined by 400 school kids on the South Lawn of the White House.

Maybe she could challenge the distinguished congressman from Wisconsin to a dance off?

Bringing dance fitness to the tween set, Mrs. Obama shot a segment on the Disney hit show, which will air in January. As The Huffington Post's Julee Wilson reported back in November: There's some extra pep in the First Lady's step since her appearance on the show is to promote Joining Forces, an initiative aimed at increasing awareness and support for military families. She's setting a good fitness and service tone for 2012.

At this year's U.S. Open, the First Lady took to the court, ably hitting some tennis balls. But this time, her lesson wasn't only about physical fitness. Instead, according to HuffPost's Ellie Krupnick, Michelle Obama told a group of children participating in the Let's Move event that she loved sports for the shear joy of them: "That's the beauty of tennis," she said. "You don't have to be good to enjoy it, because I love the game and my skills are very questionable."

The FLOTUS enthusiasm for hula hooping is well documented. But it is also reportedly her go-to strategy for wowing friends at talent shows -- at Spring Break celebrations at Camp David and, according to one unconfirmed source, to ring in 2011 in Oahu.