Ann Coulter Confronts Mitt Romney: 'You Owe Me' (AUDIO)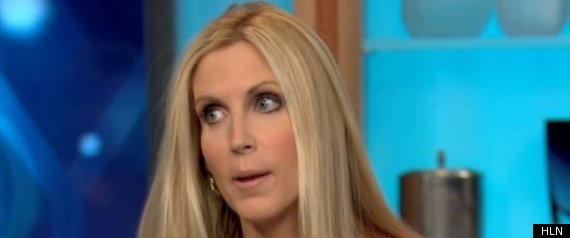 During a radio appearance on Thursday, conservative pundit Ann Coulter discussed that she once had a rather revealing private talk with GOP candidate Mitt Romney. Coulter was speaking with conservative talk show host Sean Hannity.
Hannity asked Coulter who she thinks Romney will "surround himself with" if he were to be elected president. Coulter, who is a staunch Romney supporter, said, "well I better have his ear." Coulter added that she was once at a fundraiser and approached Romney just before she was leaving the event. "I just wanted to go up to him and tell him, 'You owe me and you better be as right-wing a president as I'm telling everybody you're going to be,'" Coulter said.
Hannity asked how Romney responded to Coulter's demands. "He laughed about it and acknowledged the point and said something to the effect 'don't worry,'" Coulter said of Romney.
Coulter has also been a harsh critic of GOP candidate Newt Gingrich. Coulter and conservative pundit Glenn Beck recently criticized the former Speaker of the House for his infamous doodles.
More controversial Coulter moments:
Loading Slideshow
"You're Not Black"

Coulter told a gathering of gay conservatives, <a href="http://www.huffingtonpost.com/2010/09/27/ann-coulter-to-gay-conser_n_740066.html" target="_hplink">marriage "is not a civil right -- you're not black."</a>

Occupy Wall Street and Nazis

Coulter made <a href="http://www.huffingtonpost.com/2011/10/04/ann-coulter-occupy-wall-street-nazis_n_993744.html" target="_hplink">an analogy between the Occupy Wall Street movement and Nazis</a> in October. She said that some of the phrases used by protesters could have been said "before the French Revolution, the Russian Revolution, and with only slight modification when the Nazis were coming to power..."

"Radiation Is Good For You"

In May, Coulter appeared on Bill O'Reilly's show to argue that <a href="http://www.huffingtonpost.com/2011/03/18/ann-coulter-radiation-is-_n_837512.html" target="_hplink">"radiation is good for you."</a> She was responding to concerns about radiation in Japan post-earthquake, and told a skeptical O'Reilly that levels of radiation higher than the cut-offs set by the government could actually reduce the risk of cancer.

Coulter on John Edwards

In 2007, <a href="http://thinkprogress.org/politics/2007/03/02/10781/coulter-edwards/" target="_hplink">Coulter called John Edwards a "faggot."</a>

Obama's Cocaine Dealer

Earlier this year, Coulter asked someone to put out an ad looking for President Obama's cocaine dealer.

Ann Coulter v. Princess Diana

Coulter let loose on the late Princess Diana of all people, calling her an "<a href="http://www.huffingtonpost.com/2011/07/01/ann-coulter-bashes-princess-diana_n_888647.html" target="_hplink">anorexic, bulimic narcissist</a>." Prior to that, she had called Princess Diana a "nitwit hussy."

Cenk Uygur A "Retarded Person"

Coulter once called Cenk Uygur, then on MSNBC, "retarded."

Ann Coulter v. journalists

In May, Ann Coulter told the crowd at an annual CPAC conference that <a href="http://www.huffingtonpost.com/2011/02/13/ann-coulter-more-jailed-journalists_n_822533.html" target="_hplink">"there should be more jailed journalists."</a>

Ann Coulter v. Muslims

Post 9/11, Coulter had this to say about Muslims: ''<a href="http://www.nytimes.com/2002/07/09/opinion/bigotry-in-islam-and-here.html" target="_hplink">We should invade their countries, kill their leaders and convert them to Christianity</a>.''

Ann Coulter v. New York Times

In a <a href="http://www.observer.com/2002/08/coultergeist/" target="_hplink">2002 interview with The New York Observer</a>, Coulter said she wished that the Oklahoma City bomber had targeted the New York Times. She said, "My only regret with Timothy McVeigh is he did not go to the New York Times building." Later, <a href="http://rightwingnews.com/interviews/anncoulter.php" target="_hplink">she said</a>, "I should have added, 'after everyone had left the building except the editors and reporters.'"