George Esper Dead: Legendary Vietnam Reporter Dies At 79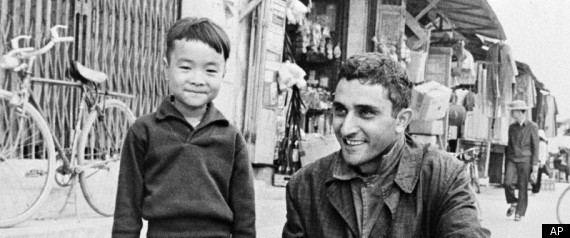 -- George Esper, the tenacious Associated Press correspondent who refused to leave his post in the last days of the Vietnam War, remaining behind to cover the fall of Saigon, has died. He was 79.
Esper died in his sleep on Thursday night, his son, Thomas, told the AP on Friday. Esper suffered from a number of ailments, especially serious heart issues, and less than two weeks ago was released from a rehab center in Braintree, where he had been sent after his latest treatment at Massachusetts General Hospital.
"George was most famous for his journalistic chops, his courage and tenacity, particularly in Vietnam. But those lucky enough to know him will celebrate his enormous generosity and boundless good cheer," said Kathleen Carroll, AP's executive editor and senior vice president.
Besides covering stories, Esper mentored young reporters in the AP and aspiring journalists he taught as a college professor.
"Hundreds of journalists learned from him in the field or in the classroom at West Virginia University and his words and his spirit inspire them every day," Carroll said. "He was a gentleman journalist and we will miss him sorely."
Esper earned accolades for breaking important stories and logged 10 years in Vietnam, the last two as AP's bureau chief. He regularly wrote AP's daily war roundup, a comprehensive story that was a fixture in many American and foreign newspapers.
"He loved traveling the world and getting the story for The Associated Press," Thomas Esper said. "He was a selfless person who made friends wherever he went."
While he considered his coverage of the dramatic end of the 15-year Indochina conflict the high point in a 42-year career of deadline reporting, it was far from the only one. Esper was legendary for his dogged persistence in covering news in war and in peace.
"You don't want to be obnoxious and you don't want to stalk people, but I think persistence pays off," Esper said in an interview in 2000.
So when he was assigned to write a story for the 20th anniversary of the 1970 shootings of four students by National Guardsmen at Kent State University and could find no phone number for the mother of one of the victims, Esper drove an hour through a snowstorm to knock on her door.
"She just kind of waved me off, and she said, `We're not giving any interviews.' Just like that," Esper recalled. "I didn't really push her. On the other hand, I didn't turn around and leave. I just kind of stood there, wet with snow, dripping wet and cold, and I think she kind of took pity on me."
Like so many others over the years, she opened up to Esper.
Born in Pennsylvania in 1932, the second youngest of eight children, Esper came from a family of Christian immigrants from Lebanon. The family operated a tavern by railroad tracks and, as a boy, George helped out by tending bar.
He was the first in his family to go to college – West Virginia University in Morgantown.
He tried to become a sports announcer but was fired after two weeks for what his boss called "butchering the English language." After writing sports for the Uniontown Morning Herald and the Pittsburgh Press, AP hired him in 1958, first in Philadelphia and then in New York.
In 1965, as the U.S. military in Vietnam shifted from an advisory role to deploying full combat divisions, Esper joined AP's growing Saigon staff. Other than a return to New York for several months in 1966, he stayed to the end.
During that interlude, he covered a long-running public dispute between Jacqueline Kennedy and author William Manchester, whom she had hired to write "The Death of a President," an authorized account of the assassination of President John F. Kennedy.
Manchester tried hard to avoid the press but complained about "that AP reporter" who seemed able to track him down no matter where he was. It was a foreshadowing of the relentless style that, along with his mastery of Vietnam's capricious phone systems, would make Esper a press corps legend in Saigon.
Once, hearing that a U.S. jungle firebase was under attack, he managed to punch through by military phone to an officer in the middle of combat. "I can't talk now. We're under attack," the officer yelled into the phone.
The U.S. Military Assistance Command regarded Esper with wariness, respect and even affection. He was relentless. He recalled "pounding them with questions: `Why don't you know? You should know this. I know you know it.'" After the war, one retired public affairs chief included Esper's photo in a wall montage of "all the commanders I served under."
When President Lyndon B. Johnson made a hastily planned trip to Australia in 1967, it was widely assumed he would stop in Vietnam to visit U.S. troops.
Guessing that the coastal base at Cam Ranh Bay was the likely venue, Esper managed to phone the airport control tower, where an officer not only confirmed Johnson's visit but had tape-recorded his speech. Hours later, the secrecy-bound White House press corps arrived in Bangkok to find the story – their story – already on the AP wire.
Esper found his best stories through perseverance and guile. In December 1972, he landed an exclusive interview with a U.S. Air Force B-52 pilot facing court-martial for refusing to fly missions over North Vietnam. Tracked down in Thailand, the pilot gave Esper the full story. When he later told Esper he had been officially "muzzled" from further comment, Esper reported that, too.
Esper wrote his most memorable story on April 30, 1975, the day the war ended with the fall of Saigon to the North Vietnamese. He and two other AP reporters declined to join the frantic evacuation of foreigners from Saigon as the North Vietnamese army drove toward the city.
Two North Vietnamese soldiers entered the bureau, accompanied by a longtime freelance photographer for the AP who on that day revealed that he had been a communist spy. He assured the reporters they were safe. Esper offered them Coca Cola and stale cake – the only food on hand – then interviewed the soldiers. Hours later, AP's communications were abruptly cut, but not before the story got out. The New York Times ran it on its front page.
Esper said afterward he was struck by how similar the young Hanoi soldiers were to the American GIs he had covered.
On his return to the United States, Esper became an AP special correspondent – the news service's highest writing title – based in Columbus, Ohio, and later in Boston. He covered major stories such as the Jonestown massacre in Guyana in 1978 and the 1991 Gulf War.
In 1993, two years after the United States restored diplomatic ties in Indochina, he was chosen to open AP's first postwar Vietnam bureau in Hanoi and was bureau chief for more than a year.
Esper retired from the AP in 2000 to become a professor of journalism at his alma mater, West Virginia University, where he was beloved by his students.
"He loved his students, who kept him young," Thomas Esper said.
Esper was a member of the university's P.I. Reed School of Journalism faculty for more than 10 years.
"He shared his vast professional experience with our students, but more importantly, he was their coach and mentor," said Maryanne Reed, dean of the journalism school. "Beyond being a dedicated faculty member, George also was a wonderful person who took a personal interest in the lives of his students, colleagues and friends. ... They broke the mold when they made George."
Chris Martin, the vice president of university relations who as dean of the journalism school arranged for Esper to become a professor at his alma mater, said: "I would paraphrase a good friend's assessment: George Esper was a celebrity who made everyone he met feel like a star. It made him a great reporter but an even greater human being."
Funeral arrangements are incomplete. Esper's body was being brought to his hometown in Pennsylvania for burial.
Esper is survived by his ex-wife, Nancy Ha, of Fountain Valley, Calif.; and three sons: Thomas of Wakefield, Mass.; Michael of Brighton, Mass.; and George of Sacramento, Calif.
Some of the notable figures who passed away in 2011.
Loading Slideshow
Pete Postlethwaite

Pete Postlethwaite, actor, Feb. 16, 1946 - Jan. 2, 2011

Anne Francis

Anne Francis, actress, Sept. 16, 1930 - Jan. 2, 2011

Gerry Rafferty

Gerry Rafferty, singer-songwriter, April 15, 1947 - Jan. 4, 2011

Dick King-Smith

Dick King-Smith, children's book author, March 27, 1922 - Jan. 4, 2011

Bo Foster

Mayhew "Bo" Foster, Flew captured Nazi leader Hermann Goering from the Austrian Alps back to the 7th Army's headquarters in Germany for interrogation, Oct. 19, 1911 - Jan. 9, 2011

Peter Yates

Peter Yates, director, July 24, 1929 - Jan. 9, 2011

Mississippi Winn

Mississippi Winn, oldest living African-American in the U.S., March 31, 1897 - Jan. 14, 2011

Susannah York

Susannah York, actress, Jan. 9, 1939 - Jan. 15, 2011

John Dye

John Dye, actor, Jan. 31, 1963 - Jan. 10, 2011

Margaret Whiting

Margaret Whiting, big band singer, July 22, 1924 - Jan. 10, 2011

David Nelson

David Nelson, television personality, Oct. 24, 1936 - Jan. 12, 2011

Don Kirshner

Don Kirshner, music promoter, April 17, 1934 - Jan. 17, 2011

Sargent Shriver

Sargent Shriver, former Peace Corps director, Democratic vice-presidential nominee. Nov. 9, 1915 - Jan. 18, 2011

Maj. Richard "Dick" Winters

Maj. Richard 'Dick' Winters, decorated WWII veteran, leader of the "Band of Brothers". Jan. 21, 1918 - Jan. 2, 2011

Jack LaLanne

Jack LaLanne, fitness pioneer, Sept. 26, 1914 - Jan. 23, 2011

Samuel Ruiz

Samuel Ruiz, Bishop, human rights activist, Nov. 3, 1924 - Jan. 24, 2011

Gladys Horton

Gladys Horton, singer, May 30, 1944 - Jan. 26, 2011

Charlie Callas

Charlie Callas, actor, Dec. 20, 1924 - Jan. 27, 2011

Nora Sun

Nora Sun, former U.S. trade consul, granddaughter of the founder of Asia's first republic in China. Aug. 6, 1937 - Jan. 29, 2011

Maria Schneider

Maria Schneider, actress, March 27, 1952 - Feb. 3, 2011

Tura Satana

Tura Satana, actress, exotic dancer. July 10, 1938 - Feb. 4, 2011

John Paul Getty III

John Paul Getty III, troubled oil heir, kidnap victim. Nov. 4, 1956 - Feb. 5, 2011

Peggy Rea

Peggy Rea, actress, March 31, 1921 - Feb. 5, 2011

Gary Moore

Gary Moore, rock musician, April 4, 1952 - Feb. 6, 2011

Betty Garrett

Betty Garrett, actress, May 23, 1919 - Feb. 12, 2011

Kenneth Mars

Kenneth Mars, actor, April 14, 1936 - Feb. 12, 2011

George Shearing

George Shearing, jazz piano legend, Aug. 13, 1919 - Feb.14, 2011

Len Lesser

Len Lesser, actor, Dec. 3, 1922 - Feb. 16, 2011

Duke Snider

Duke Snider, baseball player, Sept. 19, 1926 - Feb. 27, 2011

Frank Buckles

Frank Buckles, the last surviving American WWI veteran. Feb. 1, 1901 - Feb. 27, 2011

Jane Russell

Jane Russell, actress, June 21, 1921 - Feb. 28, 2011

Annie Girardot

Annie Girardot, French actress, Oct. 25, 1931 - Feb. 28, 2011

Mikhail Simonov

Mikhail Simonov, Russian Sukhoi fighter jet designer, Oct. 19, 1929 - March 4, 2011

Alberto Granado

Alberto Granado, Argentine-Cuban doctor, writer and scientist. Aug. 8, 1922 - March 5, 2011

David Broder

David Salzer Broder, journalist, Sept. 11, 1929 - March 9, 2011

Joe Morello

Joe Morello, jazz drummer, July 17, 1928 - March 12, 2011

Owsley "Bear" Stanley

Owsley "Bear" Stanley, Sound Engineer and former LSD cook. Jan. 19, 1935 - March 13, 2011

Michael Gough

Michael Gough, English character actor, Nov. 23, 1916 - March 17, 2011

Warren Christopher

Warren Minor Christopher, former U.S. Secretary of State, Oct. 27, 1925 - March 18, 2011

Joseph William "Pinetop" Perkins

Joseph William "Pinetop" Perkins, blues musician, July 7, 1913 - March 21, 2011

Elizabeth Taylor

Elizabeth Taylor, actress, Feb. 27, 1932 - March 23, 2011

Olga Ulyanova

Olga Ulyanova, niece of Soviet founder Vladimir Lenin, 1922 - March 25, 2011

Geraldine Ferraro

Geraldine Ferraro, first female vice presidential candidate. Aug. 26, 1935 - March 26, 2011

José Alencar

José Alencar, former Brazilian vice president, Oct. 17, 1931 - March 29, 2011

Ange-Felix Patasse

Ange-Felix Patasse, deposed President of the Central African Republic, Jan. 25, 1937 - April 5, 2011

Betty Ford

Betty Ford, former First Lady of the United States, founder of the Betty Ford Clinic. April 8, 1918 - July 8, 2011

Sidney Lumet

Sidney Lumet, film director, June 25, 1924 - April 9, 2011

William Lipscomb

William Nunn Lipscomb Jr., Nobel Prize-winning chemist, Dec. 9, 1919 - April 14, 2011

Walter Breuning

Walter Breuning, last American man born before 1900. Sept. 21, 1896 - April 14, 2011

Pietro Ferrero Jr.

Pietro Ferrero Jr., CEO of Ferrero chocolate, Sept. 11, 1963 - April, 18th 2011

Chris Hondros

Chris Hondros, photojournalist, March 14, 1970 - April 20, 2011
Copyright 2014 The Local Paper. All rights reserved. This material may not be published, broadcast, rewritten or redistributed.