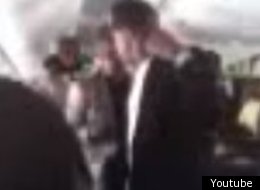 Now this is how you celebrate a Super Bowl victory.
After defeating the Patriots in Super Bowl XLVI, the Giants carried their raucous celebration -- which included some bizarre statements and even a marriage proposal -- right on to the plane taking them back to New York.
@MarkHerzlich

Mark Herzlich
Check out Andre Brown and the team celebrating on plane. Trust me u don't wanna miss this.
http://t.co/nnXnKoUi
Aboard the plane, Giants backup running back Andre Brown led the team in a rendition of a particularly catchy tune. If we're not mistaken, he got a ring.
If this is the response the team had on the plane, we can only imagine how much fun they'll have at their victory parade in Manhattan on Tuesday.