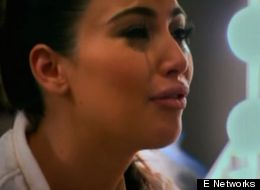 From losing her $75,000 earrings in Bora Bora (thanks to horsing around with estranged husband Kris Humphries) to crying to stepfather Bruce Jenner pre-wedding because she wants her real father there, Kim Kardashian's fame-reaping sorrows have been captured over and over again, thanks to E!
The reality star's debatably artificial sobbing over her failed marriage made recent headlines during the finale of "Kourtney and Kim Take New York." And though the mascara-dripping moment is certainly one to remember, we'd like to use it as an opportunity to look back on the best of Kim's emotional moments.
Take a look at the mash-up above!