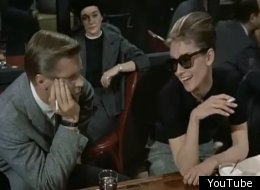 People are always falling in love in (and with) New York, and the city's proved a perfect backdrop for countless on-screen romances.
Here's a look back at some of our favorite New York love stories-- from An Affair To Remember to Blue Valentine, with three appearances by Meg Ryan, four by Tom Hanks, two musicals, a lotta kisses, heartbreak, the Verrazano, and the wisdom of Woody Allen.
We have, no doubt, omitted many movies, so let us know what we missed and we'll update our list!
Happy Valentine's, New York.
The Best Romantic Movies In New York
There's an actual love story in this movie, sure, but what we find most interesting about Manhattan is Woody Allen's passion for the city itself. The opening ode to the Big Apple is a love letter of epic proportions, swelling with the sounds of Gershwin and narrated with Woody's wonderfully romantic ramblings.

There's ONE person out there for you, New York. Fate will only take you so far--you'll have to put a lot of leg work--and then you'll finally find the love of your life as snow falls on the ice in Central Park and Nick Drake sings about magic.

Because the most charming New York romances are ones that TRANSCEND TIME.

New York City's Romeo and Juliet. A classic.

The New York romance movie gets meta when Meg Ryan, obsessed with An Affair To Remember, asks to meet Tom Hanks at the top of the Empire State building on Valentine's Day. And, after some improbable twists of fate, they do! Funny, sweet, so 90s.

A couple falls for each other on a cruise from Europe to New York. Both engaged to other people, they agree to meet on top of the Empire State building ("the nearest thing we have to heaven in New York") 6 months later. But do they? This movie will make you cry.

Tom Hanks and Meg Ryan fall in love in New York again! All with the help of some primitive AOL email! (AOL pride!)

If you're feeling a little hurt by love this Valentine's, this one might be for you. You're not alone! Love really, really sucks sometimes, but that doesn't mean it also wasn't amazing.

After joining the mile-high club on a flight from LA to NY, Oliver (Ashton Kutcher) and Emily (Amanda Peet) share a magical day in the Big Apple-- a day that inspires them to reunite over and over again over the next seven years until finally, they fall in love. Oh, and Smashmouth is in the soundtrack.

Duh.

Because sometimes love can be a fairytale. Even in New York.

Snap out of it!

Love AND disco. And the Verrazano.

Women and men can't just be friends, New York! Plus, women are really good at faking orgasms.

A mermaid (Daryl Hannah) comes to New York and falls in love with Allen Bauer (Tom Hanks). NEED WE SAY MORE? An 80s classic.

A 12-year-old boy gets caught in a man's body (Tom Hanks), plays with toys for a living, and ends up falling in love with a grown woman. The intrigue! Plus, this famous scene at FAO Schwartz.

Jack Lemmon plays a struggling insurance clerk who lends out his apartment as place for higher-ups to take their mistresses. And then, well, he falls in love.

We'll finish off with Annie Hall because love is crazy and dumb and irrational, and it can really, really hurt, but we do it anyway because, you know, we need the eggs.