Getting Married In Ireland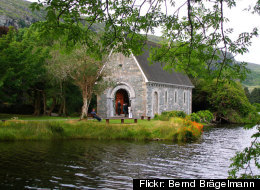 Some couples are content to tie the knot at the courthouse down the road. But for those who are more adventurous, a destination wedding -- and an international marriage -- are a must. The Huffington Post's guide to international marriages will tell you everything you need to know to get legally married in Ireland. Read on to ensure all of your paperwork is in order before booking your ticket. --Barbie Carpenter
Residency Requirement And Waiting Period
There is no residency requirement in Ireland. Couples must make an appointment with the
General Register Office
to give notification of their marriage. Then there is a three-month waiting period before the marriage can take place, so applicants are advised to contact the office well in advance to schedule an appointment date.
Intent To Marry
Ireland's local general registrars require couples to give notice of their marriage plans at least three months before their wedding date. Foreign couples unable to appear in Ireland three months before their ceremony can apply for an exemption of this requirement and instead provide notice via mail. However, they must first receive permission from the registrar. If a couple is granted permission, they must appear at the registrar's office at least five days before their wedding to provide appropriate documentation.
The Ceremony
Civil ceremonies take place at an office of a registrar of civil marriages or any
other venue
previously approved by the registrar. Alternate venues are subject to an inspection and additional fee. Venues for both civil and religious ceremonies must be open to the public. The registrar performs the ceremony, and two witnesses must attend. Couples must ensure that their officiant is listed in the
Register of Solemnisers
, which documents legal officiants in Ireland.
The Marriage Certificate
After couples file their notification of marriage with the registrar -- which costs 150 euros -- they will receive an acknowledgement that confirms the date and receipt of the notification. However, this document is informational only; it does not represent a marriage license or certificate. The registrar will later provide the couple with a Marriage Registration Form, which the registrar takes to legally record the marriage. Once the registrar documents the marriage, couples may request a marriage certificate.
Legal Documentation
When couples file their marriage notification with the general registrar, they must submit several documents, including their passport and birth certificate. Divorced individuals must provide their divorce decree; widows and widowers must provide their former spouse's death certificate as well as the marriage certificate. Couples who were in a civil partnership that dissolved must submit the final decree of dissolution. Documentation requirements can vary, so couples should contact the registrar in the locality in which they will marry to ensure they have all of the documentation necessary.
Same-Sex Marriage
Same-sex marriage is not legal in Ireland. However, the
Civil Partnership and Certain Rights and Obligations of Cohabitants Act of 2010
, which became effective on Jan. 1, 2011, allows same-sex couples to enter civil partnerships and enjoy many of the benefits extended to married couples. The requirements for marriage apply to civil partnerships as well.
Additional Information
Couples holding a religious ceremony in Ireland must meet the same requirements for civil marriages. While ceremonies can take place at churches or religious sites according to the beliefs and traditions of couples' religions, couples must also adhere to the three-month notification period and complete the Marriage Registration Form.
View the full set of laws and regulations regarding marriage in Ireland.