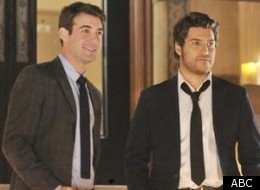 On Wednesday night's "Happy Endings", actor James Wolk -- who also has a stint on "Shameless" -- plays Grant, Max's ex-boyfriend who stages an unexpected return on Valentine's Day as a client for his gypsy limo service. Fans of the ABC sitcom know that Max (Adam Pally) is a laid-back kind of guy, so why is he attracted to Grant and his self-described "great vest and tie combos"?
"It's totally opposites attract for those two," Wolk told HuffPost TV. "Max is go with the flow, laid-back, unkempt at times. Grant is always immaculately dressed. I think Grant loves the fact that Max doesn't care about what people think of him. But Grant has his own setbacks also, so I think it'll be an interesting character to watch -- and I think it'll be a fun relationship to watch."
Of course, Wolk could also see why it would be hard to resist co-star Pally, and his Cheshire grin. "What a smile on that guy," laughed Wolk. "What a twinkle in the eye!"
On next week's episode of "Happy Endings," titled "Everybody Loves Grant," Max struggles to deal with the realization that his friends love his new beau -- maybe more than they love him. Of course, as Wolk playfully warns, no one is ever that perfect, even Grant and his sweater vests.
"Well let's just say this," explained Wolk. "Whenever you meet someone who's a little too perfect, you always go, 'Wait a minute, something's going on here.' You know it's not all roses, and that's certainly at play for Grant as well."
Wolk's "Happy Endings" debut, which will be his first of three scheduled episodes, "The St. Valentine's Day Maxssacre," will feature Grant going all out in the name of love. But when it comes to giving out his own valentines, Wolk prefers the grammar school model.
"I used to love elementary school when like everyone had to give everyone a valentine, which is so ridiculous because there's no way you feel that great about everyone around you in a class," said Wolk with a laugh. "But I love that. I love getting them. I love giving them, and those are special days."
When asked if he could remember a favorite classroom valentine, Wolk recalled a particular card from a schoolyard crush.
"I won't say her name, but I remember being in maybe third or fourth grade, and I got a valentine from the girl I wanted to get it from, and I was completely psyched," said Wolk. "I have no idea what it looked like. I'm partially color blind, so I couldn't even tell you the colors of it, but I loved it."
"Happy Endings" airs Wednesdays at 9:30 p.m. EST on ABC.
Max and Grant may make for one adorable couple, but they don't quite hold a candle to HuffPost TV's favorite gay TV couples. Take a look at our favorites below.
For the first two seasons of "Queer As Folk," we thought that Michael Novotny (Hal Sparks) would never get past his obsession with his best friend Brian Kinney (Gale Harold) -- but then he met writer and fellow comic book lover Ben Bruckner (Robert Gant) and his love life took a turn for the better. Together, Michael and Ben had to deal with Ben's steroid use and his HIV, but eventually the two celebrated their marriage in Canada, with Brian by Michael's side, and they eventually had two children. Sure, Ben might think they're "conformist homosexuals," but we're just happy Michael finally got the happy ending that he deserved. They may not have been the show's most popular couple, but they were the cutest. (Sorry, Brian and Justin fans!)

Kurt Hummel (Chris Colfer) and Blaine Anderson ((Darren Criss) are the epitome of high school sweethearts on Fox's "Glee" -- and the fan-favorite couple among most Gleeks. Klaine is kind of like a holy word in the "Glee" Bible. Not only were they each other's first boyfriends, but they lost their virginity to each other during the controversial Season 3 episode, "First Time." Blaine has also helped Kurt through some tough times, including standing up to Kurt's bully, Dave Karofsky, and taking a laced slushy to the eye to protect him. If that's not the meaning of true love, then we don't know what is. Also, a relationship that begins with a cover of Katy Perry's "Teenage Dream" is destined to last.

There was just something that felt authentic and real about David (Michael C. Hall) and Keith's (Mathew St. Patrick) relationship on "Six Feet Under." Keith supported David as he came to terms with his sexuality, came out to his family and struggled to recover from a traumatic kidnapping. They had their struggles, but eventually settled down together, adopted two kids and, as the series finale's flashforward showed, lived a nice long life and eventually got legally married in the state of California. (Yep, creator Alan Ball predicted the Prop 8 ruling way back in 2005!)

Arguably the most popular gay couple on television at the moment, Cam (Eric Stonestreet) and Mitchell (Jesse Tyler Ferguson) are the perfect complement to one another. Mitchell's serious and more introverted, and Cam is a jovial clown (occasionally even literally -- we love Fizbo!). Always a blast to watch, the couple's antics are both heartwarming and hilarious. Even if we don't get to see them be affectionate with each other nearly often enough, we love seeing them raise their adopted daughter Lily together. "Modern Family" writers, now it's time to get these two properly (and legally) hitched!

There were many hearts broken in the "Creek," but it was most difficult to watch Jack (Kerr Smith) struggle with each of his relationships after he came out of the closet. When he finally hooked up with Pacey's brother Doug (Dylan Neal), we couldn't help but cheer, and Doug's hesitation to come out at work made Jack finally step up as a confident and proud gay man. Their story wrapped on a bittersweet note in the series finale, as they agreed to raise dying Jen's (Michelle Williams) daughter Amy together in Capeside.

Callie (Sara Ramirez) tried being married to a man (R.I.P. George O'Malley) before realizing she had feelings for women. Her first try at having a girlfriend (Erica Hahn, played by Brooke Smith) didn't end well, but her rebound relationship with Arizona (Jessica Capshaw) made her embrace her sexuality, even if her religious father couldn't. Their relationship has survived quite a bit -- including Callie getting pregnant with Mark's baby while she and Arizona were on a break -- but the two vowed to raise baby Sofia together and got married in front of all their friends, with Dr. Miranda Bailey (Chandra Wilson) officiating. Even with the madness at Seattle Grace, they're still going strong.

Two of this show's most winning qualities are the fact that that it depicts a whole range of sexuality with clear-eyed thoughtfulness and that gay relationships aren't treated any differently than heterosexual ones. Barca (Antonio Te Maioho) was one of the fiercest gladiators in "Spartacus: Blood and Sand," and at the end of a long day in the arena, this tough warrior found comfort in the arms of a young man named Pietros (Eka Darville). The couple had their share of ups and downs, but Barca's intimacy with Pietros gave dimension and depth to the character. Terrible things tend to happen to the "Sparatacus" gladiators, who are slaves after all, but at least we got to see the sweet sides of two men who didn't often have occasion to let down their guards.

You can just call Willow (Alyson Hannigan) and Tara (Amber Benson) the Wiccans that stole our hearts. From their budding romance that grew along with their powers to the tragic end, Willow and Tara were the couple we loved to love. If Tara was under Willow's spell (yes, we're referencing Tara's song in "Once More With Feeling" and the fact that Willow really did cast spells on Tara, grrr), then we were under theirs.

For six seasons, fans of Showtime's groundbreaking lesbian-centric series "The L Word" followed the highs and lows of Bette (Jennifer Beals) and Tina's (Laurel Holloman) complicated relationship. There was adultery and pregnancy struggles and tons of emotion that all culminated in that very absurd murder in the series finale. Still, we'd like to think that Tibette stayed together ... even in the Jenny Schecter aftermath.

Kevin (Matthew Rhys) and Scotty (Luke Macfarlane) had their rough patches, but Scotty was the only man who could put up with Kevin's neuroses and the Walker family drama. Their commitment ceremony in Season 2 -- the first same-sex TV marriage ever to involve main characters -- didn't make life a total fairytale, but they did weather quite a few more storms (cheating and a failed surrogacy among them) before adopting daughter Olivia.

It was hardly an easy road for formerly closeted lesbian Emily (Shay Mitchell) on ABC Family's "Pretty Little Liars." But when she met Maya (Bianca Lawson), the new girl living in her missing BFF's house (yep, you read that right), she was smitten. Though Emily's mom tried to keep them apart and Maya's parents sent her to boot camp, the two finally found their way back to each other. In a recent episode, Maya made a grand gesture and professed: "I like to live life in the grey area. But the way I feel about you is crystal clear. I love you, Emily." Cue the "Aww!"

After a tragic ending for Barca and Pietros, the Starz drama made amends by introducing Agron and Nasir, a couple who were equally proficient in battle and unabashedly overt in their intimacy. Unlike almost every other character on "Spartacus," both Agron and Nasir actually survived the series and were allowed to live happily ever after together, bucking the depressing trend of LGBT relationships that are doomed to heartbreak and failure in mainstream media.