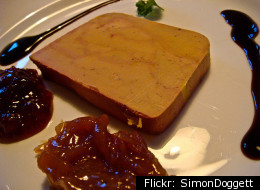 There are plenty of reasons to dislike the Michelin Guide -- one can claim that it has a bias toward extremely expensive restaurants, that its descriptions are sometimes opaque or perhaps that there needs to be more clarity regarding the process of reviewing. PETA has taken a different approach. The animal rights group has written a letter to the CEO of Michelin, Michel Rollier, requesting that the Michelin Guide stop awarding stars to restaurants the serve foie gras or shark fin soup. "Eating the body parts of animals who were tortured can hardly be considered fine dining," says PETA Executive Vice President Tracy Reiman in a press release e-mailed to The Huffington Post. "Instead of rewarding restaurants that serve these hideous products, Michelin should disqualify them from its ratings."
There is fairly universal agreement that the use of shark fin is pretty egregious -- sharks are stripped of their fins and then thrown back in the water, unable to swim. But foie gras exists in more of a gray area. Duck and geese are force-fed, but proponents and opponents disagree on if the animals feel pain.
Here's the letter in full:
Dear Mr. Rollier:



I'm writing on behalf of PETA and our more than 3 million members and supporters worldwide concerning Michelin's awarding stars to restaurants that still serve foie gras or shark fin soup. We hope that after considering the following information, you will be moved to disqualify restaurants from being rated if either item is on the menu.



Foie gras is made by force-feeding ducks and geese such enormous amounts of grain and fat that their livers become diseased and engorged. People around the world are increasingly associating foie gras with extreme cruelty to animals. California has banned the sale and production of foie gras (effective this summer), and force-feeding has been outlawed in more than a dozen countries, including the U.K., Germany, and Israel. World-renowned chefs like Wolfgang Puck and Charlie Trotter have removed foie gras from their menus because of the cruelty inherent in its production. His Holiness Pope Benedict XVI denounced foie gras production as a violation of biblical principles, HRH Prince Charles has forbidden it at Royal events, and numerous companies worldwide have stopped selling this "delicacy of despair." Please take a moment to watch this video narrated by Kate Winslet, which depicts foie gras production at several major facilities.



To meet demand for shark fin soup, fishers often cut the animals' fins off while they are still alive and dump them back into the water to slowly bleed or suffocate to death. In October, California's governor signed a bill banning the sale, trade, and possession of shark fins to protect the world's dwindling shark population. California is the fourth state in the U.S. to ban shark fin imports--Hawaii, Oregon, and Washington have already done so.



I hope you will decide not to give the Michelin star rating to restaurants that still serve foie gras, such as Cyrus and L2O, or to those that serve shark fin soup, such as Sun Tung Lok. Please contact me at LindsayR@peta.org so that I can let our members and activists know of your decision.



Thank you for your consideration.



Sincerely,

Lindsay Rajt
Associate Director of Campaigns
Check out HuffPost Food's slideshow below on eight foods that may be more harmful than foie gras:
Ban Before Foie Gras(CLONED)
Bluefin tuna is probably the most widely-cited example of overfishing. The fish are caught are way above the quota with little evidence of recovery for the stock.

California seems to be on a bit of a food ban spree recently, but we commend the move to ban the sale of shark fin, used in a popular Chinese soup. "The practice of cutting the fins off of living sharks and dumping them back in the ocean is not only cruel, but it harms the health of our oceans," said governor Jerry Brown.

The Girl Scouts may have recently pledged to reduce the amount of palm oil in their famous cookies, but that is only one drop in the bucket. Non-sustainably-sourced palm oil destroys rainforests, and threatens the habitats of animals that live there.

Farmed salmon just doesn't sound appetizing anymore thanks to the prevalence of sea lice and various diseases that can affect farmed salmon. To make matters worse, such infestations are now affecting wild salmon as well.

GOOD didn't beat around the bush with its recent post, "Child Slaves Made Your Halloween Candy. Stop Buying It." Makes you think twice about stocking up on all those Reese's.

There's a reason feedlot beef was included in the Center for Science and Public Interest's "Terrible 10." Raising animals for industrial slaughter can be harmful to the environment (pollution from methane gas), the animals (often raised in tight conditions) and humans (risks of E. coli).

There's nothing wrong with allowing children the occasional bag of Cheetos. But given the staggering level of obesity in American children, it seems ridiculous to be marketing these products directly at children. Of course, the marketers see otherwise.

Large-scale chicken farms are often just as frightening as beef. If you haven't seen Food, Inc. the film remains just a relevant, if not more, since it debuted several years ago.