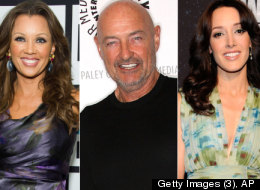 This pilot casting season has been full of celebration-worthy announcements. Chi McBride! Judy Greer! Kyle Bornheimer! Joanna Garcia! Sarah Chalke! There are so many fabulous actors trying their hand at TV again, we just hope some of their shows actually make it to air.
Many stars seem to be hopping on the train led by "New Girl" and Zooey Deschanel, but there are plenty more stars HuffPost TV would love to see make small-screen comebacks. From alums of dearly departed shows like "Lost," "Chuck" and "Terriers," to multi-tasking actors who need a new regular gig, we've rounded up 13 names that we'd like to see land new TV pilots.
Casting directors, take note!
Actors We Want To See On TV
Beals, most recently of Shawn Ryan's one-and-done "Chicago Code," is stopping by "Castle" soon for a big two-parter as a "smart, sexy CIA operative who has a complicated past with Castle." Do we smell a spinoff, ABC?

Some of us are still mourning what "Lone Star" might've been, and that's mostly because we loved having Wolk on our TVs. Now with memorable stints on "Shameless" and "Happy Endings" under his belt, he should be the hottest ticket in town.

There were doubters about Strahovski when "Chuck" began, but now we hang our heads in shame; over the course of "Chuck's" five seasons, this Aussie actress proved awesomely talented when it came to ass-kicking and spy shenanigans, and she and castmate Zachary Levi also delivered spectacularly on the romance front. Not many actresses can be so convincing as action stars and as star-crossed lovers, but Strahovski made it look easy (and her American accent was great, too).

We know that O'Quinn would have no problem returning to TV -- he shot a pilot that didn't get picked up, has done a bit on "Hawaii Five-0" and he'll pop up on next season of TNT's "Falling Skies" -- but we want this "Lost" alum in a meatier leading man role. And we know we're not alone.

With two beloved, cancelled too soon shows under his belt (our love for "Wonderfalls" and "Pushing Daisies" knows no bounds), it's about time Pace landed a show that'll last. Yes, he's doing some big movies these days, and good for him, but "Twilight" Shmilight -- Lee Pace belongs on TV.

We don't know how her "Smash" arc will end (or continue), but we'd love to see this badass beauty stick around TV for some quality drama mixed with a dash of action.

After years as Vince's lovably stoned sidekick on "Entourage," the artist formerly known as Turtle might just be ready to carry his own sitcom. After he slimmed down, ditched the head-to-toe Knicks gear and dated Jamie-Lynn Sigler (in real life, too), TV execs looking for their next comedic leading man should consider giving him a look.

When Williams finally wraps things up on Wisteria Lane, we're hoping she can bring her camp and fabulousness to another big comedy. Sure, she plays "Desperate" drama well, but we'd love to see her get back to those "Ugly Betty" days with another Wilhemina-style role.

Harrington is no stranger to TV, but getting burned one too many times on shows ("Coupling," "Better Off Ted") has made him and his fabulous straight man comedic timing way too MIA lately for our tastes. Come back, Jay!

We'd actually take any of the hilarious ladies of "Childrens Hospital" in more regular roles on the small screen -- or at least a full 30-minute show -- but Hayes is a favorite, mainly because of her blunt and criminally under-followed Twitter feed. Comedy casting people, take note.

The fact that Delroy Lindo has brought his smooth voice and style to the small screen for two different series regular roles, and both times the shows have been cancelled after one season is a crime. Any cop shows casting a good/bad captain?

Kristen Schaal is kind of having a moment. The animated "Bob's Burgers" is returning for another season, she's popping up on "30 Rock" and she's the newest correspondent on "The Daily Show," but we still can't get enough of her quirky, inappropriate, up-for-anything attitude. More please.

Those of us who mourn the passing of "Terriers" (R.I.P.) hope and pray that Logue gets a new show worthy of his many skills -- he's a master of laid-back comedy but as the co-lead the late, great FX show, he demonstrated how terrific he is when it comes to delivering subtle, moving character work.