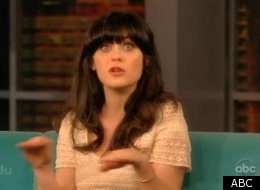 Zooey Deschanel appeared on "The View" Tuesday and shot down rumors that she and newly single Russell Brand are exchanging flirty text messages.
"I don't even know him, by the way," the 32-year-old actress said. "On the scale of truth and completely preposterous -- it's completely preposterous."
The rumors began circulating last week, after OK! magazine alleged that Brand -- who filed to divorce popstar Katy Perry on Dec. 30 -- was "desperate to hook up with" the newly single Deschanel, who, as the magazine pointed out, bears a striking resemblance to his ex.
The look-alike factor is likely the reason the rumors began in the first place, Deschanel told the "The View" co-hosts.
"I can only imagine [the resemblance] must be the reason someone would make up that story," she said.
Deschanel filed for divorce from Death Cab For Cutie frontman Ben Gibbard in December, two months after announcing their split. The couple were married for two years.