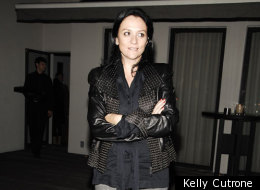 I had so much fun when Kelly Cutrone joined me on Mondays with Marlo. She is fearless and fabulous. And just in time for Fashion Week, she sent me a very funny list of her "Top 10 Dos and Don'ts" when it comes to personal style. --MT
Click here to purchase Kelly's books, Normal Gets You Nowhere and If You Have To Cry Go Outside.
Kelly Cutrone's Fashion Do's And Don'ts
Don't believe the hype. Trends are trends because they come and go.

Do always try to buy the best quality of basic items that you can afford. Do build a wardrobe of bankable basics, ie.: o One white oxford o One black shirt o One cashmere sweater set o One a-line skirt o One pencil skirt o One black suit jacket o One Audrey Hepburn-esque little black dress o One pair of trousers And do buy all of these in season free fabrications in a neutral color like navy, chocolate or black -- this is the backbone of a great fashion wardrobe.

Don't purchase fashion items if you don't know how to use them. Don't buy a four-inch heel if you can't walk in it. This is distracting and dangerous to yourself and everyone around you.

Do always wear one nice thing. o T-Shirt? Check. o Jeans? Check. o Flip Flops? Check. o Hermes Collier de Chien? Check.

Don't kid yourself about your size or body shape and never wear ill-fitting garments -- no muffin tops or sagging breasts allowed! This is inexcusable. We live in an age with fantastic fabric technology. I suggest you use it to your advantage on a daily basis.

Do buy fun luggage. It's easy to ID, will get you out of the airport quicker, and separates you from the pack. Honey, you've outgrown the ribbon on your black luggage.

Don't bring straight guys shopping with you, ever! They are the worst!

Do invest in good body garments. Ie: a great t-shirt bra. I love the Wolford Flashdance Bra.

Don't wear running sneakers with your dress or skirt. (This excludes white Keds, cool Vans and Chuck Taylors if you're under 28).

Do donate unworn and gently used garments to local churches and shelters. I have a rule: Every time I buy something new I let something go.

Don't buy expensive designer trend items, unless they are from a brand that is sold at an auction house, and therefore is collectable and maintains value, ie. DO buy the Cartier panther ring! DO NOT buy four-hundred dollar gold Coach loafers; get them at Target.

It's cool and fashionable to be patriotic. Do buy American products and support American designers and the fashion industry wherever and whenever possible.

Don't pierce your belly or eyebrow. If you do, take it out in public. As a matter of fact, let's just eliminate body piercing all together.
Add Marlo On Facebook:
Follow Marlo on Twitter:
Weekly Newsletter

Sign up to receive my email newsletter each week - It will keep you up-to-date on upcoming articles, Mondays with Marlo guests, videos, and more!

Sign up here