Valentine's Craft Ideas: 5 Adorable (And Simple) DIY Projects From Mom Bloggers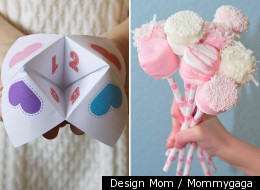 Scrambling to make (or buy) 27 of the cutest cards, dealing with small heartbreaks that seem much bigger to the little people involved,l trying to find one-on-one time with your significant other ... Valentine's Day can turn into a bigger headache than Christmas. It's time to focus on the fun.
Instead of moaning about the crafting, find a lovey-dovey DIY project that suits you and your family. Here are five to choose from, thanks to a few of the most design-inclined mom bloggers on the web. They say that no matter how artistically savvy you are, the finished products will actually look like these beautiful photos. Ready to give it a shot?
LOOK: 5 Do-It-Yourself Valentine's Day Projects