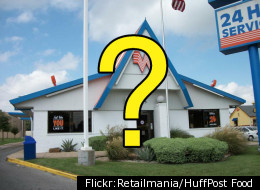 It's pretty easy to say which fast food chain is the biggest. By number of restaurants? Subway. By total revenue? McDonald's.
Deciding which is the best is tougher. It's an inherently subjective process. And there's nothing in the restaurant chain world to things like the National Book Awards, Grammy's or Westminster Best-In-Show to place stamps of approval on especially delicious fries from a drive-thru.
All we have are surveys. In September, Zagat released its ranking of fast food chains, determining that Five Guys was the most popular in the country. A comprehensive survey from research firm MarketForce, released in August, came up with the same result. Together, they gave Five Guys plenty of reason to be smug.
Industry research firm Sandelman and Assoc. just released the results of a huge new survey on fast food, based on the responses of 100,000 diners, far more than either Zagat or MarketForce. The final rankings are based on the responses of people who actually visited the restaurants in question in the three months before taking the survey. The survey ranked restaurants by the number of diners who said their experience had been "excellent."
Five Guys, though it does well, is not the winner. Neither is In-N-Out, another perennial contender in these types of surveys. (Though it's worth noting that, as a commenter points out, the final results weren't so far off from the Zagat rankings by rating, rather than popularity.) Click through below to find out who is, among chains with at least 500 outposts:


Whataburger has been in the fast food business since 1950, as long as almost anyone out there. But perhaps because they've been modest in their expansion strategy, focusing on the South, they've done a pretty good job maintaining high quality, with 45% of survey respondents saying they had an excellent time in their last experience at the chain.

2013 will mark the 20th birthday of 1000-strong sandwich chain Jimmy John's -- and placing ninth of this list, with a solid 48% of respondents ranking their experience "excellent," is as good a present as any.

Starbucks is by far the biggest chain on this list, so it's impressive that it's managed to keep customer satisfaction so high. Exactly half of survey respondents who'd been in the past six months said they had an "excellent" time at the store.

Full disclosure: before these survey results were released, HuffPost Food had never heard of Zaxby's! But the house special chicken fingers are good enough, at least, for 51% of people to call them excellent.

Papa Murphy's is an outlier in the pizza chain industry, in that it doesn't serve people hot pies. Instead, it's a place where you buy a pizza to "take n' bake" in the comfort of your own home. They must be doing something right: 52% called the chain excellent in Sandelman and Associates' customer satisfaction survey.

53% of survey takers said their most recent Five Guys Burger experience was excellent -- that's over 10% for each guy!

Jersey Mike's isn't one of the biggest chains on this list, with just over 500 outposts. But it's been around since 1956, giving it lots of time to perfect their sandwiches, which 53% of respondents called excellent.

Slate just called Chipotle the Apple of fast food. It's not quite there yet in terms of revenue -- it pulled in just under $200 million last year, a far cry from the billions Apple makes -- but it's pretty close in terms of customer satisfaction. A full 57% of survey respondents said their last meal at the Mexican Grill was excellent.

Good carbs go a long way: 58% of those surveyed who'd recently been to a Panera called their meal there excellent.

No wonder the chicken chain, notoriously owned by Evangelical Christians, passed $4 billion in revenue for the first time last year -- 65% of survey respondents called their experience there excellent.
CORRECTION: This article originally contained several typos. The company that released the survey is called Sandelman and Assoc., not Sandleman and Associates. Survey respondents were required to have dined at the restaurant in question within the last three months, not the last six months. And we failed to mention that slideshow above includes only chains with at least 500 outposts; the full results include several chains with high ratings but fewer than 500 locations.