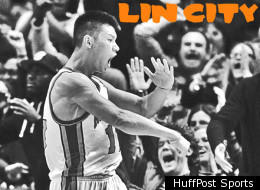 Who has had more fun this week: Jeremy Lin or the rest of us?
On the one hand, it seems fairly obvious that the Knicks' point guard has enjoyed his breakout performances versus the Nets, Jazz and Wizards and that he has felt validated by all of the attention that he has been receiving after drawing scant interest as he finished his high school career in Palo Atlo and then his collegiate career at Harvard.
But, on the other hand, the rest of us have had Linsanity.. Lincredible.. Lindestructible.. The Linside Job.. All He Does Is Lin.. and so very many, many more tweets and headlines to enjoy and dream up.
Fulfilling one's lifelong ambition or having your Twitter timeline lighting up like the night sky on Lindependence Day?
I would have called this a draw. But then I saw the NMA TV animated account of Lin's rise. Certainly that video tilts the scales in favor of the rest of us. Seemingly everyone except for Kobe Bryant has been swept up by this Linspirational story.
On Friday, Kobe and the Lakers visit the Garden to put the Knicks' Linning streak to its sternest test. Will Lin be able to keep it up? Or will the Lakers expose this Knicks squad that will be playing without Amar'e Stoudemire and Carmelo Anthony?
FOLLOW HERE FOR LIVE UPDATES THROUGHOUT THE GAME. TWEET TO @HUFFPOSTSPORTS TO JOIN IN THE CONVERSATION:

The Knicks beat the Lakers and the first thing he says in his post-game interview is nice things about Jared Jeffries.