Los Angeles Lingerie: Top Local Lingerie Stores This Valentine's Day Season (PHOTOS, NSFW)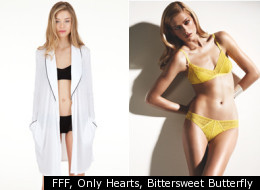 Whether you're shopping for yourself or for that special sweetheart, you need not trek to the mall for leather and lace this Valentine's season. Why would you, when we are blessed with so many unique and classically-LA lingerie stores in practically every neighborhood around town?
There's a little something for every woman, whether she's the sex-bot, the romance queen, the lover of all things French or the striped-shirt-and-jeans Sunday bruncher. Herewith are our top picks for the best local lingerie shops you won't want to miss.
Peruse the slideshow below and get lost in all of the beauty LA has to offer:
Pretty pieces: "Fleur of England" Naked Balcony Bra ($196), "Fleur of England" Naked Thong ($102) "Fleur of England" Naked Garter Belt ($126) Items available in store or online here About: Faire Frou Frou has been the gem of Studio City for 7 years. Being the only location in Los Angeles and in the world, Faire Frou Frou has become a destination boutique by bringing the best of Europe's lingerie straight to LA. Being so close to the studios, Faire Frou Frou works very closely with Hollywood stars, stylists and TV shows. Faire Frou Frou: 13017 Ventura Blvd, Studio City, CA 91604. 818. 783.4970

Pretty pieces: "Kitty" Cupless Bra by Lascivious, ($135), "Kitty" Ouvert Knickers by Lascivious ($95) Items available in store or online here About: Faire Frou Frou has been the gem of Studio City for 7 years. Being the only location in Los Angeles and in the world, Faire Frou Frou has become a destination boutique by bringing the best of Europe's lingerie straight to LA. Being so close to the studios, Faire Frou Frou works very closely with Hollywood stars, stylists and TV shows. Faire Frou Frou: 13017 Ventura Blvd, Studio City, CA 91604. 818. 783.4970

Pretty piece: Marlies Dekkers "Dame de Paris" Plunge Bra ($99) and "Dame de Paris" Shorty ($56) Item available in store or online here About: Faire Frou Frou has been the gem of Studio City for 7 years. Being the only location in Los Angeles and in the world, Faire Frou Frou has become a destination boutique by bringing the best of Europe's lingerie straight to LA. Being so close to the studios, Faire Frou Frou works very closely with Hollywood stars, stylists and TV shows. Faire Frou Frou: 13017 Ventura Blvd, Studio City, CA 91604. 818. 783.4970

Pretty pieces: Whisper Retro Bralette ($55), Ruched Back Hipster in Red coral ($35) Items available in store or online here About: Only Hearts' charming Santa Monica store is much bigger than it appears. Their lingerie has been featured in Elle, Marie Claire, Vogue and Harpers Bazaar. Their overall goal is providing not just beautiful lingerie, but lingerie that is comfortable and versatile - cue their catchphrase "inner outwear." Keep your eyes peeled: Kate Hudson, Sienna Miller, Anna Hathaway and Meryl Streep have been known to shop here. Only Hearts: 1407 Montana Ave, Santa Monica, CA 90402. 310.393.3088

Pretty pieces: So Fine Bralette ($35), So Fine with Lace Hipster ($40), Organic Cotton Robe ($88) Items available in store or online here About: Only Hearts' charming Santa Monica store is much bigger than it appears. Their lingerie has been featured in Elle, Marie Claire, Vogue and Harpers Bazaar. Their overall goal is providing not just beautiful lingerie, but lingerie that is comfortable and versatile - cue their catchphrase "inner outwear." Keep your eyes peeled: Kate Hudson, Sienna Miller, Anna Hathaway and Meryl Streep have been known to shop here. Only Hearts: 1407 Montana Ave, Santa Monica, CA 90402. 310.393.3088

Pretty pieces: Barcelona Blouson Top ($62), Barcelona Flirty Boomers ($48) Who has to have it: Item exclusively online here About: Only Hearts' charming Santa Monica store is much bigger than it appears. Their lingerie has been featured in Elle, Marie Claire, Vogue and Harpers Bazaar. Their overall goal is providing not just beautiful lingerie, but lingerie that is comfortable and versatile - cue their catchphrase "inner outwear." Keep your eyes peeled: Kate Hudson, Sienna Miller, Anna Hathaway and Meryl Streep have been known to shop here. Only Hearts: 1407 Montana Ave, Santa Monica, CA 90402. 310.393.3088

Pretty pieces: Ariel bra ($250), Ariel brief ($220), Ariel suspender ($190) Items available in store or online here About: Agent Provocateur was founded in 1994 in Soho, London, but we are lucky enough to have two boutiques right here in Los Angeles - in West Hollywood and Beverly Hills. The brand is known for providing pieces that are confident, sensual, beautiful and playful. The Rodeo Drive store is just a year old and has hand-painted silk walls, a hosiery library and an Art Deco Hollywood vibe. Agent Provocateur: 242 N. Rodeo Dr, Beverly Hills, CA 90210. 310.888.0050 - and - 7961 Melrose Ave, Los Angeles, CA 90046. 323.653-0229

Pretty pieces: Daena bra ($220), Daena thong ($120), Daena suspender ($190) Items available in store or online here About: Agent Provocateur was founded in 1994 in Soho, London, but we are lucky enough to have two boutiques right here in Los Angeles - in West Hollywood and Beverly Hills. The brand is known for providing pieces that are confident, sensual, beautiful and playful. The Rodeo Drive store is just a year old and has hand-painted silk walls, a hosiery library and an Art Deco Hollywood vibe. Agent Provocateur: 242 N. Rodeo Dr, Beverly Hills, CA 90210. 310.888.0050 - and - 7961 Melrose Ave, Los Angeles, CA 90046. 323.653-0229

Pretty pieces: Mercy bra ($190), Mercy brief ($250) Items will be available shortly About: Agent Provocateur was founded in 1994 in Soho, London, but we are lucky enough to have two boutiques right here in Los Angeles - in West Hollywood and Beverly Hills. The brand is known for providing pieces that are confident, sensual, beautiful and playful. The Rodeo Drive store is just a year old and has hand-painted silk walls, a hosiery library and an Art Deco Hollywood vibe. Agent Provocateur: 242 N. Rodeo Dr, Beverly Hills, CA 90210. 310.888.0050 - and - 7961 Melrose Ave, Los Angeles, CA 90046. 323.653-0229

Pretty pieces: Fuchsia sheer lace demi bra with grosgrain trim ($66), matching bikini with keyhole back ($29) Items available in store only About: Panty Raid has been serving up lovely lingerie on the Los Angeles' eastside since 2002. From lacy and racy to sweet and sensible, they've got you covered. The lingerie at Panty Raid is carefully chosen for cut, quality and design from a variety of brands from all over the world. Their sensibility is modern, romantic, and not frilly or silly. Head to this Los Feliz hot spot for everyday luxury or date night glamour. Panty Raid: 1953 Hillhurst Ave, Los Angeles, CA 90027. 323. 668.1888

Pretty pieces: Mesh and lace bustier ($105) and matching bikini with keyhole back ($29) Items available in store only About: Panty Raid has been serving up lovely lingerie on the Los Angeles' eastside since 2002. From lacy and racy to sweet and sensible, they've got you covered. The lingerie at Panty Raid is carefully chosen for cut, quality and design from a variety of brands from all over the world. Their sensibility is modern, romantic, and not frilly or silly. Head to this Los Feliz hot spot for everyday luxury or date night glamour. Panty Raid: 1953 Hillhurst Ave, Los Angeles, CA 90027. 323. 668.1888

Pretty pieces: Silk and lace bra ($86), Silk tap pants with lace trim ($82) Items available in store only About: Panty Raid has been serving up lovely lingerie on the Los Angeles' eastside since 2002. From lacy and racy to sweet and sensible, they've got you covered. The lingerie at Panty Raid is carefully chosen for cut, quality and design from a variety of brands from all over the world. Their sensibility is modern, romantic, and not frilly or silly. Head to this Los Feliz hot spot for everyday luxury or date night glamour. Panty Raid: 1953 Hillhurst Ave, Los Angeles, CA 90027. 323. 668.1888

Pretty pieces: Stella McCartney "Josephine Marrying" Bra ($195), French Knicker ($120), Garter ($75) Items available in store only About: Bittersweet Butterfly opened its doors to Los Angeles in February 2005, making this Valentines Day their 7th Anniversary. This one of a kind boutique, located in Silverlake, offers an eclectic mix of fashion connoisseurs from all over the world. They are known for a curated collection of sexy underpinnings by local and international lingerie superstars such as Stella McCartney, La Perla Studio, and Samantha Chang. Angelenos shop here for intimate service and exclusive, unusual finds. Bittersweet Butterfly: 1406 Micheltorena St, Los Angeles, CA 90026. 323.660.4303 (Photo credit: Stella McCartney Lingerie)

Pretty pieces: Samantha Chang "Meet Me at Midnight" Soft Bra ($79) and High Waist Panty ($45) Items available in store only About: Bittersweet Butterfly opened its doors to Los Angeles in February 2005, making this Valentines Day their 7th Anniversary. This one of a kind boutique, located in Silverlake, offers an eclectic mix of fashion connoisseurs from all over the world. They are known for a curated collection of sexy underpinnings by local and international lingerie superstars such as Stella McCartney, La Perla Studio, and Samantha Chang. Angelenos shop here for intimate service and exclusive, unusual finds. Bittersweet Butterfly: 1406 Micheltorena St, Los Angeles, CA 90026. 323.660.4303

Pretty pieces: La Perla Studio "Vintage Lace" Bra ($77) and matching panty ($57) Items will be available shortly About: Bittersweet Butterfly opened its doors to Los Angeles in February 2005, making this Valentines Day their 7th Anniversary. This one of a kind boutique, located in Silverlake, offers an eclectic mix of fashion connoisseurs from all over the world. They are known for a curated collection of sexy underpinnings by local and international lingerie superstars such as Stella McCartney, La Perla Studio, and Samantha Chang. Angelenos shop here for intimate service and exclusive, unusual finds. Bittersweet Butterfly: 1406 Micheltorena St, Los Angeles, CA 90026. 323.660.4303

Pretty pieces: Ingenue Demi Bra ($225) and Ingenue Corset Panty ($185) Items available in store or online here About: Kiki de Montparnasse's LA store opened in 2007 and have other stores in both Soho and Las Vegas. Kiki de Montparnasse is known for having a devoted clientele and sophisticated collections as soft and sumptuous to wear as they are to touch. Couples and friends indulge in champagne and chocolate-dipped strawberries while enjoying complimentary romance salons and private fittings with customizable 'before, during and after" lighting settings. Kiki de Montparnasse: 8280 Melrose Ave, Los Angeles, CA 90046. 323.951.9545

Pretty pieces: Muse Corselette ($295) and Muse Heart Panty ($175) Items available in store or online here About: Kiki de Montparnasse's LA store opened in 2007 and have other stores in both Soho and Las Vegas. Kiki de Montparnasse is known for having a devoted clientele and sophisticated collections as soft and sumptuous to wear as they are to touch. Couples and friends indulge in champagne and chocolate-dipped strawberries while enjoying complimentary romance salons and private fittings with customizable 'before, during and after" lighting settings. Kiki de Montparnasse: 8280 Melrose Ave, Los Angeles, CA 90046. 323.951.9545

Pretty piece: Ingenue Bow Thong ($200) Item available in store or online here About: Kiki de Montparnasse's LA store opened in 2007 and have other stores in both Soho and Las Vegas. Kiki de Montparnasse is known for having a devoted clientele and sophisticated collections as soft and sumptuous to wear as they are to touch. Couples and friends indulge in champagne and chocolate-dipped strawberries while enjoying complimentary romance salons and private fittings with customizable 'before, during and after" lighting settings. Kiki de Montparnasse: 8280 Melrose Ave, Los Angeles, CA 90046. 323.951.9545

Pretty pieces: Cashmere bralette with silk straps ($290) and Cashmere brief with silk bow ($300.00) Items available in store only About: Undrest is in a world of its own. The West Hollywood flagship shop houses the largest collection of Undrest lingerie - from cashmere bra and panty sets, to exquisite one-of-a-kind haute couture silk lingerie made from the finest French Chantilly lace. Only fight for parking on Melrose if you're looking for high end, exquisite, unique pieces that are still, somehow, wearable. Undrest was previously on Roberston Blvd, but the new expanded Melrose store opened in October 2011. Undrest: 8627 Melrose Ave, West Hollywood CA 90069. 310.360.0055

Pretty pieces: Crosby bralette ($265) and Crosby brief ($265) Item available in store only About: Undrest is in a world of its own. The West Hollywood flagship shop houses the largest collection of Undrest lingerie - from cashmere bra and panty sets, to exquisite one-of-a-kind haute couture silk lingerie made from the finest French Chantilly lace. Only fight for parking on Melrose if you're looking for high end, exquisite, unique pieces that are still, somehow, wearable. Undrest was previously on Roberston Blvd, but the new expanded Melrose store opened in October 2011. Undrest: 8627 Melrose Ave, West Hollywood CA 90069. 310.360.0055

Pretty pieces: Shirred cardigan dress in Antique Ivory (price available upon request) Item available in store only About: Undrest is in a world of its own. The West Hollywood flagship shop houses the largest collection of Undrest lingerie - from cashmere bra and panty sets, to exquisite one-of-a-kind haute couture silk lingerie made from the finest French Chantilly lace. Only fight for parking on Melrose if you're looking for high end, exquisite, unique pieces that are still, somehow, wearable. Undrest was previously on Roberston Blvd, but the new expanded Melrose store opened in October 2011. Undrest: 8627 Melrose Ave, West Hollywood CA 90069. 310.360.0055