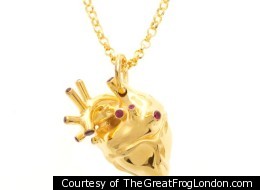 Valentine's Day is a weird holiday in many ways.
Although it started out as a day to honor one or more early Christian martyrs named Saint Valentine, since the 1840s, it has been a manufactured holiday used to sell cards, chocolate, flowers and other romantic gifts.
But romance is in the eye of the beholder and not every person or relationship appreciates the one-size-fits-all approach to gifts of love.
Especially someone who is weird.
Don't worry, HuffPost Weird News has come to your rescue with a list of bizarre gifts sure to get your beloved's heart racing.
Whether that's a good thing is up to you. We can't do everything.
WEIRDEST VALENTINE'S GIFTS GALLERY
Weirdest Valentine's Day Gifts
If you're going to spend $348 for a gold heart pendant, at least make sure it's an accurate representation. The Anatomical Heart Pendant, which also comes in silver, features rubies at the end of each auricle and ventricle

If you're looking for something special for your master or slave, it's hard to beat a rubber duck in bondage gear -- no matter how much the rubber duck wants to be beaten. This vibrating rubber-wearing rubber duck costs $27 and is sure to be a hit.

Guys who want to give their partners something extra -- or at least the illusion of it -- may want to try "Trunk In My Junk," a brand of reusable cups that fit over a man's privates to make it look as if he's more well-endowed than he actually is. At $11.95, it's cheaper than surgery and the company website claims that no one who gets far enough to discover the deception will have the guts to say, "Wait a minute! No thanks."

Context is everything in love. If you throw a card at your Valentine, they are liable to take it the wrong way. Unless the card is actually a frisbee. For $10 SendAFlyingCard.com will personalize a frisbee with a Valentine's Day greeting, allowing the two of you to relive the precious memories at the beach, at the park or in the parking lot of a Dave Matthews concert.

Think temporary tattoos are for boobs? Well, then Tatatoos are perfect. They are made to fit on the breasts and send a special message, such as "Touch Down," "Satisfaction Guaranteed" or "Ride Me" to whoever gets that close. The titillating fake tats cost $9.95 for each package of two 'toos (which is kind of a lot for something that will make you look so cheap). Another downside: They don't have one that says, "If You Can Read This, You're Standing Too Close."

It's possible that alcohol helped you attract your Valentine in the first place so it makes sense to give it to them of February 14. But a plain brown paper bag, while utilitarian, lacks a certain oomph. However, Medea Vodka sells a bottle for $39.95 that allows you to program LED messages up to 225 character per message on a built-in screen, such as, "Want to get drunk and have sex?"

When a woman is willing to shave a guy's back, that's true love. If that love is still at the infatuation stage, perhaps, the Mangroomer is a better option. It empowers a guy to shave those hard-to-reach areas on his back so he can feel man-scaped while still keeping his DIY spirit intact.

Any guy can give his woman flowers, candy and greeting cards, but a true man helps his lady love reach her true destiny. And since "Destiny" is a classic stripper's name, The Pole Position, a how-to manual on becoming an exotic dancer will help her learn the proper way to shake that moneymaker.

You might think that a handbag is too personal a gift for Valentine's Day (why tick off the little woman by getting something that isn't to her liking), but you are sure to have hours of fun when she tells her friends you got her a "LeSchitte bag." Hopefully, her friends aren't hard of hearing, because, otherwise, they might think you got her something that was crap. It's not crap, it's LeSchitte.

Birds do it. Bees do it. Apparently, so do gingerbread men and women, according to the Cookie Sutra. This handy manual explains various sex positions using cookies. If you want to spice up your February 14, this could be food for thought

Stuffed animals are a popular gift for Valentine's Day, but what does a teddy bear know about love? Nothing! If you want creatures that are more biologically oriented towards sex and romance, these Mini Plush Microbes are the ticket. The $20 kit includes furry replications of an egg, sperm, amoeba, mononucleosis and, best of all, penicillin.

Since the beginning of time, people who wanted to soak their aching feet had to settle for buckets or bathtubs. With the StepNSoak boots, you just put in one or two cups of water in each shoe and walk around sloshingly. Besides being an active way to unstink the feet, they are a great way to tell the foot fetishist in your life that you won't walk all over them (unless, of course, that's what they want).

Not being able to grow facial hair is enough to drive some guys to drink. If that happens, give them a cocktail in one of these mustache tumblers. Whether he wants to look like Tom Selleck, a porn actor or some bowler-wearing doofus from the 1890s, these glasses have got him covered -- at least around the upper lip.

Want an artistic way to show your love that you are truly connected? How about a couple's portrait that features both your DNA? Just swab each of your cheeks, pick the color scheme and -- boom! -- you have something that shares your DNA that isn't as messy or inconvenient as the other option, a baby. Prices start at $199, which is also cheaper than a child.

That medical marijuana prescription you got your lover last year was great, but how do you top it? Well, how about a beer holder that looks like a prescription bottle. It's the perfect way to say, "I love you and I am a co-dependent enabler."