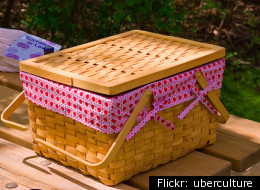 Remember when Valentine's Day consisted of red and pink paper rectangles with cutesy text and a small heart-shaped box of candy? Neither can we. According to the National Retail Foundation (NRF), Americans are expected to shell out an estimated $17.6 billion this Valentine's Day. Whether you're short on funds or just don't feel like forking over all of your cash to cupid, here are a few ways you can celebrate the 14th without going broke.
Photo courtesy of uberculture
Get in the kitchen and whip up some delicious eats for your sweetie. Surprise your love with breakfast in bed or a picnic lunch. Even better, cook a gourmet dinner together.

Last-minute flower arrangements and roses, the Valentine's Day flower of choice, can get expensive. Instead, opt for other flowers in your sweetie's favorite color or the traditional pink or red. Choosing flowers that are in season in February can also help to avoid a hefty bill if you're on a tight budget.

Go for a long walk on the beach or go for a hike on your favorite trail. Take the opportunity to block out daily distractions and focus on conversation and one-on-one time.

Indulge in a special Valentine's bath together. Light candles and reach for your favorite scented oil to set the mood.

Consider celebrating on an earlier or later date, such as the weekend following the 14th. Restaurants may be less crowded, you won't have to worry about going to work the next day and Valentine's chocolates and gifts will be on sale.

Instead of shelling out the big bucks for sweets, make your own chocolate-covered strawberries at home.

Channel the grade school days of crushes, and let the love notes flow. Stick them in unexpected places or arrange them so they lead to you.

Comb through your music library, and compile a playlist of love songs to set the mood for the night.