Inspiration: Good and evil. Dark and Light. Dashes of "Avatar" blue.
Makeup: Makeup artist Charlotte Tilbury's stunning metallic eye was the main event. "The makeup ended up feeling a bit Avatar-ish," she said. "But also like, wild birds of paradise. Beetles. Peacocks." Working MAC Cosmetics teal and green cream shadows right up to the brow bone, she created an electric blue effect that almost seemed to move with the light. She purposely made it "diagonal, like birds of paradise feathers." Tilbury then layered on a coppery brown cream shadow, which further enhanced the iridescent effect. Lashes were left bare, and the skin was minimal. A bit of moisturizer, then cream highlighter on the cheekbones, ridge of the nose and on the lips. "Dewy, metallic, supernatural skin," is what Tilbury was going for.
Hair: Paul Hanlon for TIGI Catwalk gave the models super-glossy, stick-straight hair -- but with an edge. "Prabal didn't want anything too over the top with the hair. He spoke a lot about this idea of light to dark, dark to light. He was inspired by this blue Japanese Rose. When you think of Asian hair, you think long, glossy, conditioned hair. Though to give it a little twist, I'm exposing all the girls' ears on the side, which gives it a bit more of a creepiness. Think Sissy Spacek, teenage horror thing." The models' hair was first blown-dry, then flat-ironed very closely to their heads; he pushed everything behind their shoulders. Hanlon added extensions to give length, then trimmed them to create very blunt, square ends. The high-gloss, almost synthetic-like shine was the result of Catwalk Your Highness Weightless Shine Spray, finished with a blast of Catwalk Sessions Series Hairspray.
Nails: Jin Soon Choi for Sally Hansen worked with the designer to create four custom shades for his fall collection. "We matched the nail colors to what they're wearing. Very clean, simple colors. Not colorful. In this case you can match. Everything looks elegant and simple." For the models who wore darker clothes, nails were painted either black or blue, while the girls in lighter outfits had coppery-gold or white nails. Choi predicts that the toned-down blue shade, "Blue Rose, will be very big for fall. You heard it here first.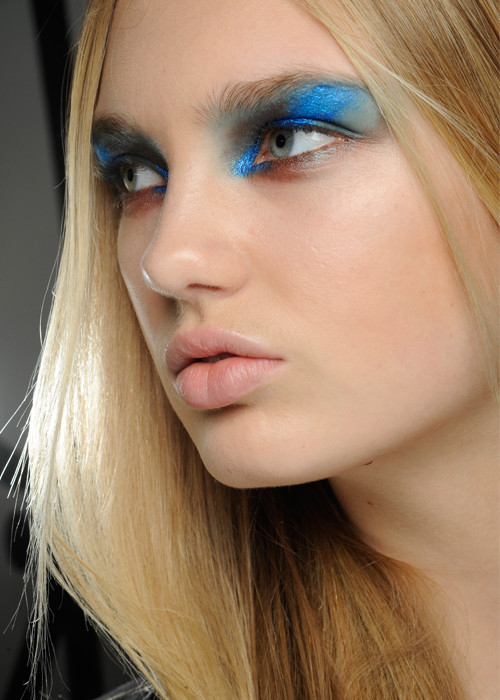 FOLLOW HUFFPOST