While more high school students are taking the Advanced Placement exams -- and succeeding on them -- most students who should be taking the exams aren't.
More than 60 percent of students considered to have AP potential didn't take the exam last year, even though their PSAT scores showed they could perform well on one, according to a College Board report released last week. Overall, black, Latino and Native American students were less likely to take AP exams than their white and Asian counterparts.
"AP potential" as defined by the College Board is a 70 percent or greater likelihood that a student will score a 3 (out of 5) or higher on an AP exam. The "potential" is calculated based on more than 2 million public school PSAT/NMSQT takers in the class of 2011.
Of those, nearly 771,000 graduates were classified as having AP potential, but nearly 478,000 -- about 62 percent -- did not take a recommended AP subject. The study points out that underserved minorities were disproportionately impacted: 74 percent of Native American students, 80 percent of black students and 70 percent of Hispanic students did not take recommended AP subject tests. A majority of Asian students with AP potential took the exams -- 42 percent did not -- and 62 percent of white students with AP potential didn't take the exams.

This year's report echoes findings from last year's, as the College Board report last February revealed that while the number of minority students taking the exam has increased, it is still disproportionately low. To add to that, those groups are also still struggling to excel in performance: Of the half million students who passed an AP exam in 2010, just 14.6 percent were Hispanic or Latino. Only 3.9 percent of passing students were black.
The debate surrounding AP courses and exams is divided. Students who take and perform well on AP exams often benefit in the college arena: high scores show admissions officers that a student has the ability to master college-level work. Many colleges also use AP exam scores as ways of placing students in advanced classes, placing them out of introductory courses or simply in exchange for college credit by placing students out of course and graduation requirements altogether.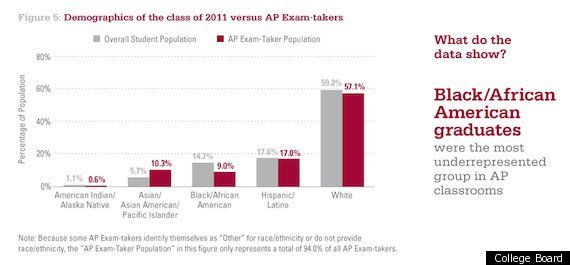 To incentivize students to take and succeed on these exams, some schools -- like two in Virginia -- are offering cash prizes to students who earn high marks on their AP tests.
But critics aren't sold. Some have argued that AP courses restrict curricula and studying for the year-end exam takes time away from studying for the SAT or preparing for other classes. A number of colleges are also doing away with the practice of taking AP exams for college graduation credits.
"One of the major flaws in the AP system is that every class is geared toward a standardized test," TeenInk contributor Rachel G. of Los Alamitos, Calif. writes. "The result is that comprehensive learning is sacrificed for the sake of test preparation, with teachers spending the most time on topics likely to appear on the AP exam."
FOLLOW HUFFPOST