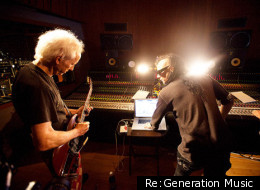 Every year, a diverse group of musicians come together in the name of Tibetan culture. This year, the Philip Glass-curated Tibet House Benefit at Carnegie Hall features performances from Glass, Antony, Lou Reed, Rahzel, Das Racist, Laurie Anderson, Stephin Merritt and Dechen Shak-Daysay. Go here for more information, and watch Antony and Lou Reed perform together above.

The New York City Opera's production of Giuseppe Verdi's masterpiece, 'La Traviata,' opened Sunday, and will continue through the end of the week at the Brooklyn Academy of Music. Go here for more information.

Islands is the kind of band that toes the like between upbeat and melancholy so well, you're not sure exactly what you feel... other than wanting to stay lost in their sounds. Their new album, A Sleep & A Forgetting, is out Tuesday.

The Re: Generation Music Project takes five DJs -- DJ Premier, Mark Ronson, Skrillex, Pretty Lights and The Crystal Method -- and has them recreate five traditional styles of music. The Doors, for one, will get the Skrillex touch. A documentary of the project will be in U.S. theaters for two nights only, on Feb. 16 and Feb. 23. Go here for more information.

The critically acclaimed Belgian film about shady dealings in the world of cattle farming -- particularly of note for a powerhouse performance by Matthias Schoenaert -- is out in the U.S. Friday.