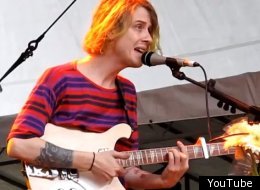 What do lo-fi rock, twangy country and gospel pop have in common? "I will Always Love You." The iconic song originally written by Dolly Parton and magnificently covered by the late Whitney Houston was once again redone by the band Girls.
At the Singapore Laneway Festival on Sunday, lead singer of Girls Christopher Owens presumably pays tribute to Houston in a teary rendition of "I Will Always Love You." The quality of the video footage is pretty rough, but the emotional performance is right on par with Girls.
Watch Girls cover of "I Will Always Love You:"