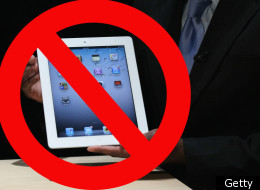 Last weekend, a friend of mine (we'll call her "Tiffany," because her name is Tiffany) posted on Facebook that she was off to buy an iPad. "Finally getting one!" she wrote, and her choice was affirmed by dozens of Likes on her status and comments like "!!!!!" and "wooooooo." One of Tiffany's pals, in fact, was so excited that he could only manage an "OMGGGGGG," being so shocked that he was apparently transformed into a polytheist.
Well, I hate to be the bear of bad news here, so to speak, but Tiffany: There is no worse time than right now to buy an iPad.
This goes for the rest of you, too, and not just friends of mine who happen to be named Tiffany: Unless you really, really need one, you should NOT buy an iPad this month. Don't do it. There will almost certainly be a new iPad announced on March 7, and you are going to feel somewhere between silly and stupid if you spend $500 on an iPad 2 when you could have gotten a superior iPad 3 (or iPad 4G, or iPad 2S, or whatever it's called) for the same price or less if you had waited a few weeks.
At this point, we know enough about the release timeframe of the next iPad that paying full price for an iPad 2 is just a foolish way to part with your money. Unless you're also buying a $131,000 smartphone this February, wait until March rolls in to get your iPad.
Here's why:
Don't Buy An iPad In February!
This past week, no less than four news outlets with super trustworthy sources -- The New York Times, the Wall Street Journal's All Things Digital blog, The Next Web, and Jim Dalrymple of The Loop -- independently confirmed that Apple would be holding an iPad event in San Francisco during the first week of March, with Apple blog iMore pinning March 7 as the date. John Paczkowski of All Things Digital was the first to report on the early March announcement; Paczkowski was also the first to correctly report that the iPhone 4S would be announced in October 2011, and that the event would be held on Oct. 4, 2011, with Tim Cook presenting. In other words, the man has strong sources inside Apple. Whoever is whispering in Paczkowski's ear is whispering the truth. Apple isn't commenting, as it doesn't "respond to rumors," but you better believe that the folks in Cupertino are all but putting the finishing touches on their iPad 3 event invitations. Those invitations, by the way, will probably read March 7, if you need an exact date for your iCal. Apple blog iMore got the scoop, with another confirmation by Dalrymple).

Once the iPad 3 (or iPad 2S, or whatever it's called) is unveiled, expect it to go on sale about a week or so afterward. Steve Jobs presented the iPad 2 to the world on March 2, 2011. It went on sale March 11, 2011. The first iPad took a little longer -- 3 1/2 weeks from announcement to availability -- but this delay was supposedly due to "production hiccups" in the supply chain. Though there have been similar reports of production troubles on this third-generation iPad -- namely, with the Retina display (What's that, you ask? Stay tuned. We'll find out in a moment!) -- Apple is generally not a company that announces a product with fanfare and then holds it from the market. It wants the excitement fresh in the minds of consumers when they go to buy their new devices. In short, the iPad 2's days as the newest -- and best -- Apple tablet are numbered into the low double-digits.

Though specific details, features and specs are always hard to come by before an announcement, Apple is pretty predictable when it comes to the price of its new products. Since 2008, the newest model iPhone has always cost $199 on contract (that's the iPhone 3G, the iPhone 3GS, the iPhone 4, and the iPhone 4S -- all marked improvements over their predecessors, all with the same price as their predecessor). The first iPad started at $499. The second iPad started at $499. The third iPad will probably start at $499, too -- perhaps less. The first iPhone had 4GB of storage and cost $499 on contract. The iPhone 3G bumped the storage to 8GB and cost $199 on contract. The iPhone 3GS bumped the storage again to 16GB for a $199 phone. Incremental increases in storage capacity along with incremental decreases in price marked the first three years of the iPhone -- could they also mark the first three years of iPad? Given the downward price pressure of the insurgent $199 Kindle Fire, it is not ridiculous to think that the iPad 3 might get a price cut.

This is not a matter of design taste. Based on reports from the supply chain, the iPad 3 seems as though it will look rather similar to the iPad 2 (with some reports claiming it will be a negligible amount thicker). If you are set on an iPad, then waiting three weeks will land you a superior tablet in terms of processor speed and screen resolution. Most expect the next iPad to feature an upgraded quad-core A6 processor (in English: Your iPad will do more things faster), as well as a Retina display, or a screen on which you won't be able to distinguish individual pixels no matter how closely you look.

We've heard rumors for months now that after the iPad 3 was released, the iPad 2 would stay on sale for a lower price, just as Apple does now with the iPhone 4S ($199 on contract), the iPhone 4 ($99) and the iPhone 3GS ($Free.99). This is just a rumor, of course -- though its persistence should at least cause you to put away your checkbook for a few weeks. Is a $500 iPad 2 right now really so much better than a $400 iPad 2 in mid-March? Waiting could save you some serious cash-money.

What all of these points add up to is this: Do NOT buy a new iPad until March 7, unless you really, really, REALLY can't wait. Your desire to buy an iPad should be threatening to burst your every organ for you to get an iPad in the month of February. In a few weeks time, you'll be rewarded with an iPad that is the same price, has better specs and a better screen, and will feature brand new technology rather than the 11-month-old stuff the iPad 2 is sporting. Don't make me do you like I did my pal Tiffany, crashing onto the comments section of your Facebook page like the Kool-Aid Man exploding through a brick wall. Save me (and yourself) the headache, re-holster your credit card for the rest of February, and wait for that inevitable March iPad upgrade to buy one.