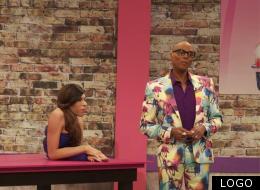 Last fall we interviewed Piyah Martell, a transgender teen and Internet sensation who was born with a rare condition called Caudal Regression Syndrome that kept her spine and legs from fully developing in the womb.
Martell has gained a following thanks to her YouTube cover videos of songs by artists like Lady Gaga and Mariah Carey, and now she's headed to the small screen with a guest spot on tonight's episode of "RuPaul's Drag Race."
The episode will also feature guest judges Amber Riley from "Glee" and singer Natalie Cole.
"RuPaul's Drag Race" airs Mondays at 9pm ET on LOGO.
Check out our interview with Piyah here and view some of her YouTube clips below.