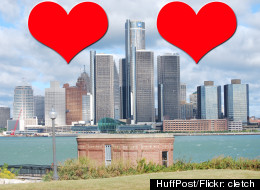 So all the restaurant reservations are taken and you're desperate for something to do in Detroit this Valentine's Day? Look no further.
We've compiled a list of Valentine's Day date alternatives that should keep you and your date happy and active. Why settle for chocolate-covered strawberries when you could sip champagne to the sounds of tigers mating? Or learn to move to the beat of a salsa band? Or watch strangers take their clothes off?
Valentine's Day doesn't have to be about rose petals and chain jewelry stores. Instead, take this Feb. 14 to explore some of Detroit's best events, appropriate for singles, lovers and everyone in between. The D doesn't disappoint.
Detroit Valentine's Day Alternative Date Ideas
What better way to say "I remember making out with you in the college library" than a trip through the stacks at this legendary Detroit bookstore? John K. King Books is sure to have at least a few copies of "Romeo and Juliet" on hand, or more likely something a tad less tragic for your Valentine. Spend time with your sweetie browsing the racks (on racks on racks) of used and vintage books on offer to find a gift that's both thoughtful and promotes literacy. You can even start your own private book club. Office Manager Toni Caron says the store sees an uptick in patrons searching for "something special" for Valentine's Day. "They're not sure what it is sometimes, but they they do want the love poetry --- usually something a little bit classical, like [Elizabeth Barrett] Bowning's 'Sonnets From The Portuguese,'" she said. The store has a good poetry collection and small section of paperback romance novels (think Danielle Steele), in addition to a mix of love stories with the general fiction. As for local romance, Caron says patrons love to find copies of "Bid Time Return," a 1975 novel about time-traveling playwright who falls in love with an actress at Mackinac Island's Grand Hotel. (The book was adapted the 1980 film "Somewhere In Time," starring Christopher Reeve and Jane Seymour.) If your love is far away, the store stocks vintage Valentine's postcards from the turn of the century through the 1920s. Caron says the cards are typically "gushy," but don't let that deter you. "They're historic and nice and it shows you put some thought into it," she said. And if you find yourself dateless and wishing to wallow, there's plenty a traditional grand romance to remind you of your loneliness. Caron recommends anything by the Bronte sisters or Jane Austen for a classic true love tale. She finds Austen in particular is hard to keep in stock. "You don't even have to have a movie coming out -- people just love her writing because she's witty," Caron explained. But if you're looking for a romance recommendation, ask someone other than John King, the owner and seller of the store's million-plus books. When asked for his top Valentine's Day picks, he replied, "I don't read that romantic stuff." 901 West Lafayette Boulevard. 9:30 a.m. - 5:30 p.m.

The Detroit Zoo wants you to know sex is only natural, and it's offering up the evidence through the inaugural Valentine's Day "Love Gone Wild" event. Couples and singles (adults only) can tour the zoo, learn about its residents' mating habits, and perhaps get a bit inspired to do the wild thing themselves. While the zoo can't guarantee that visitors will see any animal action, spokeswoman Patricia Janeway says February is not too early for mating season. But what if the animals just aren't in the mood? "Many of our animals are paired according to breeding recommendations from the Association of Zoos and Aquariums Species Survival Plan, a national cooperative program to ensure genetically healthy, diverse and self-sustaining populations of threatened and endangered species," Janeway explained. "The animals are identified by their respective SSP program's 'computer dating service' as good matches, but sometimes they just don't have that essential 'animal attraction,' something a computer can't predict. Animals are individuals and there are no guarantees." Let's hope there's a bit more guarantee for your Valentine's night. Detroit Zoo, 8450 W. 10 Mile Rd, Royal Oak. 6:30 p.m.

Think you're ready to take a permanent plunge with your partner? Detroit's Custom 5150 ink is willing to fulfill your request to have your sweetheart's name tattooed, well, anywhere. Calista Southard, who runs the downtown tattoo parlor with her longtime boyfriend and fellow tattoo artist Niemo, says couples tattoos are more common than you think. "A lot of couples come in, and they both have to get their tattoo that day -- its' like a bonding experience to get tattooed together," she says. Couples often opt for tattooed wedding bands -- harder to lose than the traditional gold ring. Southard says portraits of loved ones are also popular. "One of my favorites is when the guy will get the key and the lady will get the heart with the keyhole," she says. "There's endless possibilities." Is it ever a good idea to get someone else's name tattooed on your body? "It's kind of hard to predict forever," Southward says. "But I think it says a lot about a relationship when they get each other's names." Southard and Niemo each have the other's name inked in their own skin. Her name appears on his wrist, and his name appears ... somewhere below the waist. She says a tattoo is a big commitment, but might be right for couples who feel confident in their relationship. And for those who love but later lose, Southard says there's no reason to worry about cover-up designs or expensive tattoo removal. "You can never say that you didn't love that person," she points out. "If you love that person truly and deeply -- even if you're not gonna be together -- they were still a part of your life. That's what tattooing is all about it's about: a story of your life." 5150 Custom Tattoo, 639 Beaubien Street. 2 - 11 p.m.

Waxahatchee may or may not be a euphemism -- we're not sure. All the same, the punk solo project from P.S. Eliot's Katie Crutchfield is playing at the Trumbullplex with support from Detroit's Prison Wine and Hamtramck's Pewter Cub. Also promised: a kissing booth and Valentine's-themed art. Trumbullplex, 4210 Trumbull. 8 p.m.

Probably the original alternative Valentine's Day date, now in its 12th year, the Dirty Show is a Detroit tradition. Erotic doesn't even begin to describe the artworks chosen for display. Definitely not for the prudish, but certainly a good option for the more curious -- and those looking to test their partners on the prudish-curious spectrum. Want to know the story behind the dirt? Read Nicole Rupersburg's confession: "I Was A Dirty Show Model." Bert's Warehouse Theater, 2739 Russell St. 7 p.m. 18+

Dust off your two-tone shoes for Valentine's Day at the Garden Bowl. Singles can get let go of some of that pent up sexual frustration by hurling balls at (let's be honest, quite phallic) pins. And it's no Pizza Hutt Engagement Package, but couples can share a heart-shaped pizza from Sgt. Pepperoni's. Just make sure any rings you might be giving don't get stuck inside one of the alley's balls.

If you're like us, you can't think of anything sexier than tapping toes and wiggling hips to a good salsa rhythm. But if you're like us, you also don't know how to dance. Luckily there's hope. Southwest Detroit's COMPAS offers salsa lessons every Tuesday -- a perfect way to feel the music with your Valentine. Dateless? Go it alone and maybe you'll spot someone to salsa with beneath the sheets. COMPAS - Center for Music & Performing Arts, 8701 W. Vernor Hwy. 8:15 p.m.

Valentine's Day, like Halloween, is a holiday for putting aside assumptions and reservations and simply embracing one's inner burlesque dancer. But before you strip to your skivvies, get some inspiration from the professionals. Detroit's Dizzy Dames are performing their "authentic traditional burlesque" backed by jazz from the Detroit Dizzy Dukes. Learn a thing or two, or just enjoy the show. Special couples pricing available. Park Bar, 2040 Park Ave. 8 p.m.