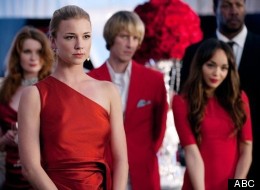 It's Valentine's Day week on television and instead of chocolates, flowers or nauseatingly sweet cards, your small-screen significant other got you the return of "Cougar Town"!
The hilarious series returns on Tuesday with a proposal.
Also, "Survivor" returns for its 24th season with a twist: Both teams (separated by gender) must share one beach on Wednesday. But if less-deserted drama is up your alley, tune in that same night for the "Revenge" event we've all been waiting for: Emily and Daniel's Fire & Ice engagement party.
Then on Thursday, Louis C.K. heads to "Park and Recreation," while "Grey's Anatomy" and "Private Practice" combine for a huge crossever event.
And this weekend is certainly not without new programming either. "Up All Night" star and "Saturday Night Live" alum r Maya Rudolph eturns to the sketch comedy show to host. And on Sunday, "Eastbound and Down" returns and "Pan Ams's" season -- but possible, series -- finale hopefully ties up some loose knots.
Check out our slideshow to see what else is worth watching this week.
"The Voice" (8 p.m. EST on NBC) After the complete waste of time and talent that comprised "American Idol's" Hollywood episodes last week, I find myself wishing that NBC's rival competition was the show that had two airings a week instead. It's part three of "The Voice's" blind auditions, in which mentors Christina Aguilera, Cee Lo Green, Adam Levine and Blake Shelton must continue building their teams based purely on the vocal ability of the hopefuls. (In short, it's a breath of fresh air amongst the tedious talent contest scene.) I also insist that you watch "Smash" immediately after, because if it gets cancelled, my faith in humanity will be forever shattered.

"Hart of Dixie" (9 p.m. EST on The CW) Rachel Bilson's quirky medical dramedy doesn't get a lot of press these days, but the past couple of episodes have been consistently cute and entertaining. It's still got that "Gilmore Girls" meets "Everwood" vibe, but considering the quality of those two shows, that's not a bad thing. Give it a try if you haven't already.

"Lost Girl" (10 p.m. EST on Syfy) The more I see of this girl-powered fantasy drama, the more I love it (and it already has Maureen Ryan's seal of approval). It's so rare to see well-written, empowered female protagonists these days, and if you're a fan of genre shows like "Supernatural," "Buffy" or "Dark Angel," there's a lot to love here. This week, Bo is hired by a Dark Fae bookmaker to find out how a human managed to win a bet with him. As a reward for solving the mystery, Bo is offered the opportunity to have an Oracle reveal something about her mysterious past.

"Cougar Town" (8:30 p.m. EST on ABC) season premiere Break out Big Carl and celebrate with your cul-de-sac crew, because there's no finer Valentine's gift than the long-awaited return of TV's most hilarious show (yes, really). The name might suck, but the quirky camaraderie between this loveable group of lunatics is pure gold. Jules is miffed when Grayson (who has an ulterior motive) calls her "predictable"; Ellie frets that little Stan is either turning into a "devil child" or, even worse, could grow up to be like Laurie; and Travis likes his new off-campus housing, until Bobby tries to convince him to take care of dog Travis.

"Ringer" (9 p.m. EST on The CW) Sarah Michelle Gellar's labyrinthine mystery series is finally hitting its stride now that twin sisters Siobhan and Bridget are in the same city, inadvertently -- or advertently -- thwarting each other's every move. Bridget visits some of the last locations Siobhan went before she disappeared and discovers that Siobhan kept a secret office. Olivia finds out some information about Henry and blackmails him into introducing her to Gemma's wealthy father (guest star Gregory Harrison). Meanwhile, in Paris, Tyler struggles with a moral decision that could affect Siobhan and Andrew. "Supernatural" viewers will also be pleased to note that the episode was helmed by fan-favorite director Guy Bee.

"Parenthood" (10 p.m. EST on NBC) Julia struggles to detach herself from getting too involved in Zoe's life, Kristina reacts to Amber and Bob Little's plans to go off on a weekend business trip together and Max tries to use his Asperger's as an excuse to get out of P.E. Meanwhile, Sarah and Mark's plan to have a baby elicits an unexpected reaction from Drew.

"Survivor" (8 p.m. EST on CBS) season premiere The stalwart reality series returns for a 24th season. It's a battle of the sexes when tribes are separated into men versus women, but they are in dismay when they learn of a game-changing twist -- they must share one beach. Meanwhile, castaways are shocked when a tribe's true colors are revealed at a competitive immunity challenge.

"Ghost Hunters" (9 p.m. EST on SyFy) winter finale According to SyFy's press release: "The MOST important news in 'Ghost Hunters' history will be revealed! Plus, the ghost of a former mayor lays down the law when TAPS heads to Providence." Intriguing ...

"Happy Endings" (9:30 p.m. EST on ABC) When the whole gang, with the exception of Dave, falls in love with Grant (guest star James Wolk -- who really does seem perfect, doesn't he?), Max wonders if he's good enough to date the "perfect" guy. Meanwhile, Dave sets out to prove he's way cooler than Max's new boyfriend.

"Revenge" (10 p.m. EST on ABC) It's the episode we've been waiting for since the pilot, as the splendor of Emily and Daniel's Fire & Ice engagement party quickly turns to terror when her vendetta takes a dark, unexpected turn, putting those she loves and hates in imminent mortal danger. Meanwhile, Jack resolves to find Amanda, and Charlotte takes desperate measures to soothe the pain of her family's betrayal.

"Parks and Recreation" (8:30 p.m. EST on NBC) While trying to get an endorsement from the Chief of Police, Leslie (Amy Poehler) and Ben (Adam Scott) awkwardly run into Leslie's old flame, Dave (guest star Louis C.K.). Meanwhile, Andy (Chris Pratt) and the rest of the office work on a theme song for Leslie's campaign.

"Private Practice" (10 p.m. EST on ABC) Sweeps crossover ahoy! Cooper and Charlotte take Erica to Seattle Grace to meet with Derek, Lexie and Amelia regarding a very risky surgery; Scott tells Violet that he would like to take their relationship to the next level; and Addison finds herself caught in the middle of Sam and Jake's fight about a patient. Meanwhile, Sheldon warns Sam to be cautious as he deals with the return of his sister, Corinne.

"Inside Comedy" (11 p.m. EST on Showtime) Interviews with comedians, in which they discuss their careers, influences and what constitutes funny. This week's guests are Billy Crystal, Martin Short and Brad Garrett.

"Nikita" (8 p.m. EST on The CW) Following last week's excellent curveball ending, Nikita and Michael try to help Carla (guest star Erica Gimpel) remember her past, which holds the key to taking down Division. Carla recounts the night Nikita was arrested and Nikita is stunned at what she learns. Meanwhile, Alex shows up at a Zetrov press conference where Semak (guest star Peter J. Lucas) is speaking and announces that she's Alexandra Udinov. Alex demands a trade -- her mother for the empire.

"Fringe" (9 p.m. EST on Fox) The stunning final moments of the last episode should lead the story in a fascinating new direction. As the Fringe team investigates a mentally ill patient who appears to be connected to a series of murders, frightening clues and connections are uncovered that lead Olivia to some shocking revelations.

"Supernatural" (9 p.m. EST on The CW) Four years ago, Sam and Dean helped a woman named Nora (guest star Nicole Oliver) exorcise a demon that was systematically killing women in a small town. They managed to save the postal worker, Jeffrey (guest star Russell Sams), while vanquishing the demon, but now it seems the black-eyed monster has reared his ugly head and returned for a second helping. The brothers visit Jeffrey, who has been locked in a psych ward since the incident to see if he can remember any of the demon's plans while he was possessed.

"Spartacus: Vengeance" (10 p.m. EST on Starz) Spartacus leads survivors through the woods, but Crixus gets separated and returns to a place of past suffering. Lucretia pries into Ilithyia's affairs, seeking influence with a powerful Roman.

"The Fades" (9 p.m. EST on BBC America) season finale With the town now deserted and an apocalypse looming closely, Neil is desperate to find Paul before John gets to him first. Meanwhile, Paul's dreams are becoming more and more gruesome and vivid. The remaining Fades are famished, but John's only focus is nabbing Paul, once and for all. As such ominous events take shape, which way will Paul go: Will he follow the Angelics or take up with the Fades? And the bigger question is ... will he be able to save the world or end it?

"Saturday Night Live" (11:29 p.m. EST on NBC) "SNL" alum Maya Rudolph returns to her roots as a host on the show that launched her career, with musical guests Sleigh Bells. Worth watching if only for the possibility of some sort of "Bridesmaids" reunion skit with Kristen Wiig and to see how she may handle her longtime Whitney Houston impression.

"Once Upon a Time" (8 p.m. EST on ABC) Another Snow and Charming episode -- joy! With their love for each other growing stronger, David finally agrees to tell Kathryn about his relationship with Mary Margaret and put an end to his loveless marriage. Meanwhile, in the fairytale land that was -- while runaway groom Prince Charming searches for Snow White -- he agrees to aid Abigail on a dangerous mission to recover something precious to her that was lost.

"Eastbound and Down" (10 p.m. EST on HBO) season premiere In the Season 3 premiere, we find Kenny in Myrtle Beach, S.C., as the closer for a minor-league baseball team. He also reunites with April for his son's first birthday in his North Carolina hometown.

"Pan Am" (10 p.m. EST on ABC) season finale Considering that there's a fairly good chance this might be the series finale for the retro show, fans should enjoy it while it lasts. Life has changed on a dime for the crew of Pan Am. Since President Kennedy's assassination and as 1963 comes to an end, everyone's lives are hurtling towards new beginning: Colette is caught up in a whirlwind courtship with a foreign prince, and Dean is still kicking himself over losing her; Amanda and Ted's wedding plans are racing forward, thrilling his family, but making him more nervous by the day; Kate's spy supervisor, Richard, is shot and she tries to figure out whether he or someone else is a double agent; and Amanda makes Laura a startling offer.