Arwa Damon, CNN Correspondent, Reports From Syria Amid Violence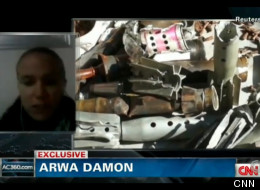 CNN's Beirut correspondent Arwa Damon is on the ground in Syria in an undisclosed location, offering a glimpse inside a country that is largely blocked off from the international media. Damon described the Syrian opposition's weaponry and information links during an appearance on AC 360 with host Anderson Cooper. Such information networks include an operation in which information is delivered between villages by motorcyclists.
Reporting and independently verifying information coming out of Syria has been nearly impossible, if not life-threatening, since the uprising against Bashar Assad's regime began in early 2011.
Recently, French TV reporter Gilles Jacquier was killed in Syria, with two Swiss colleagues blaming the Assad regime for ensnaring him in a planned attack. In a separate incident, Syrian journalist Mazhar Tayyara was killed by government fire in Homs, the epicenter of much of Syria's violence.