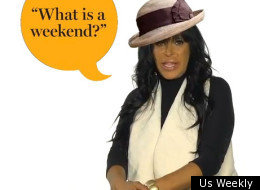 This sells itself: "Mob Wives" star Big Ang reenacts "Downton Abbey."
Us Weekly asked Big Ang, "Mob Wives'" own Dowager Countess of sorts, to read memorable quotes from the crossover UK hit. And they even digitally added a stylish hat!
"Downton Abbey," currently in its second season, has been enjoying ratings success on PBS. The Feb. 5 episode that went up against the Super Bowl still pulled in 4 million viewers on PBS.
Marvel at the video below as Big Ang asks, "What is a weekend?"