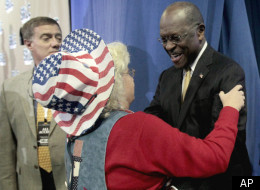 Former GOP presidential candidate Herman Cain won't be accepting an invitation to join the cast of "Dancing with the Stars" this season, his spokeswoman said Tuesday.
"He can't dance in an eight-count. He can only dance in a nine-count," Lisa Reichert, Cain's executive assistant, told The Atlanta Journal-Constitution, referencing Cain's 9-9-9 tax plan.
Since suspending his campaign, Cain has remained in the GOP spotlight, making a high-profile endorsement of Newt Gingrich and delivering the Tea Party Response to the State of the Union. He also spoke at the Conservative Political Action Conference last week.
Other rumored "Dancing with the Stars" Season 14 contestants include singer Gavin DeGraw and Giuliana Rancic.