The Sports Illustrated swimsuit issue can launch a model's career from obscurity to celebrity. Texas native Julie Henderson, who first modeled for the magazine in 2007, appears in the latest issue, on sale this Valentine's Day. We asked Henderson a few questions about dating, beauty and, of course, how to get her hot bod.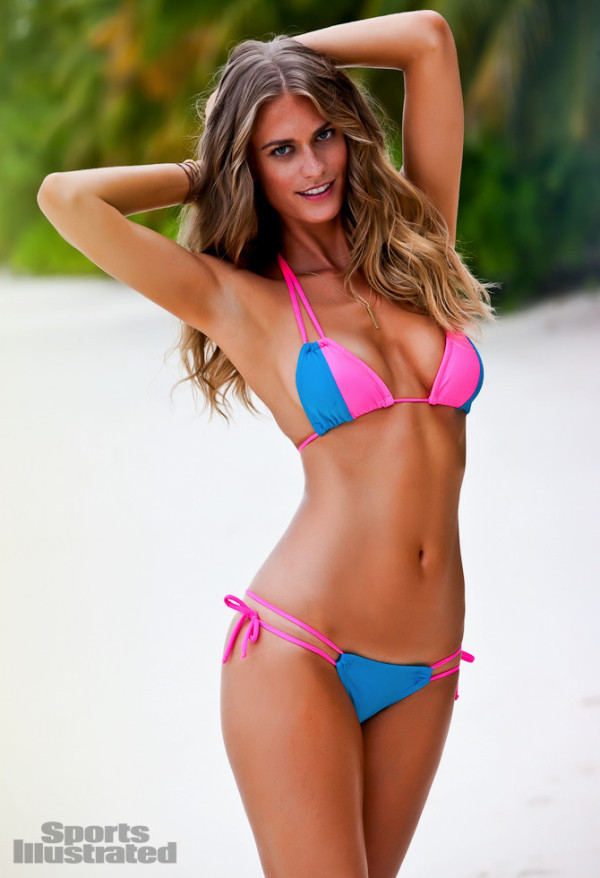 James Macari/Sports Illustrated.
Is it easier or harder to date as a model?
It depends who you're with. You have to be with somebody that accepts what do you do. If you're not with somebody that can accept that you are in the spotlight and have to go to a location last minute for a shoot, then it is difficult. But, I think that goes with any profession. Unless you're going to date within your industry, then you have to learn and educate yourself what the other person does.
Would you ever date another model?
Never. I don't know, I like to come home and not have to always talk about work. I think it would be too close for comfort for me. I like to be challenged a little bit, so learning about somebody's else's livelihood and profession and why they chose it's so much about a person. If I dated a model, then it'll be like dating myself.
Do you and your boyfriend have any Valentine's Day plans?
Not yet, I have the Sports Illustrated party in the evening and then we all fly out. Hopefully I have time for a nice little romantic luncheon or something. I've been with my boyfriend for two years now. I told him, "This is either gong to be a really good Valentine's Day for you, or a really bad one."
What was it like the first time you were in the Sports Illustrated swimsuit issue?
The first time I was in it, I was really excited. I had been wanting it my entire career, so to be one of the exclusive girls in the magazine was an emotion that I can't really describe. And, to be asked back six years in a row is more than a dream come true. I never imagined that it would be possible.
Who was the first person that you calledl when you saw your photos in the issue?
Probably my father, if not, my boyfriend.
What do they think about you posing in a bikini for one of the most famous magazine issues in the world?
Well, I think they've kind of prepared themselves for what's to come. I mean, this magazine isn't some new magazine, it's been around. You buy the magazine for a certain reason, you know what to expect. It's always done it a very classy way, so it's nothing to be ashamed of.
How do you maintain your healthy, gorgeous look?
There are so many models out there now that try to starve themselves to be super skinny, and it's not really an image that I want to portray to the rest of the world. So I stay healthy, I eat. I will give into my indulgences, like candy, but I try to be moderate and I work out often. I just started boxing. I have a personal trainer and it's pretty comical, I have to say. But it's an interesting workout, because it triggers your mind in a different way. You have to be on guard. So I'm really into that now and I've always been into yoga, I run, I try to just mix it up to keep myself, my body and my mind interested. I always need to listen to something really upbeat, so anything that is top 40 with Nicki Minaj or Lady Gaga is fun to listen to.
Did you feel pressure to be a super skinny model when you were younger?
I've always been active with sports when I was growing up. When I first started, I would see the really thin girls and of course, when you're really young, you're thinking, 'I have more meat, more muscles than the other girls do,' and I'm not even that muscular. It does play with you, but at the end of the day, you have to really confident in the industry and own up to who you are. Everybody love something different. If everybody was the same it'd be so boring.
What beauty tips have you picked up from makeup artists?
I've learned what complements my skin coloring, like that I should use more of a burnt peach than an orange-y peach blush. Things like that. It's always nice when you work with all these amazing, creative people that are the top of their industries. You get the firsthand experience of what works for you in particular. I'm such a mascara kind of girl, though. If I don't have anything on, I'll throw on some mascara and I already feel so much better. I love the Lancôme Hypnose mascara, I think it's a great brush and a great product. It's easy to wash off and it doesn't run, I can put it on in the morning, run around and not think of it smearing all over my face.
What models do you most admire?
The ones that I look up to are the ones that have made an impact and turned their modeling career into an entire lifestyle, like Heidi Klum. She was a Sports Illustrated model, and now she's got everything. She's on AOL, she has a TV show. Whatever that woman touches, it turns to gold.
Check out decades of Sports Illustrated Swimsuit Issue covers:
PHOTO GALLERY
BEFORE YOU GO
Sports Illustrated Swimsuit Covers Through The Years
PHOTO GALLERY
Sports Illustrated Swimsuit Covers Through The Years
CELEBRITY RELATED LINKS YOU MAY LOVE:

Which Star Is Wearing Liz Taylor's Dress To The MET Gala? - Elle

Kim Kardashian Is Working On A Fresh Start - Allure

Check Out Sofia Vergara's Bombshell Style - InStyle

Celebrities Show Off Their Style From The Front Row - FabSugar

The Story Behind Adele's Platinum Locks - People Style Watch