For single people looking for a committed relationship, the thought of finding "the one" can be daunting -- what if it never happens?
Not to worry, says Sophie Keller, author of the "How Happy Is" series, which includes "How Happy Is Your Love Life?" and "How Happy Is Your Marriage?" Take this excerpt from the beginning of the first book, for instance:
That is where you can meet your life partner, and that is when. Remember that when you're sitting at home grieving over a failed relationship. Remember that when you are fed up with being alone. Remember that when you feel so ready and have felt that way for so long and yet he or she refuses to appear. You could be in a store, at a music festival, crossing the road, introduced by friends, in a library, in a class or at the gym. The possibilities of where you might meet are endless, and that, of course, is the beauty of it. And you don't know when that fateful moment might be, because meeting your partner is one of the things in life you cannot control, and it usually comes when you are least expecting it.
And Keller knows better than anyone -- she met her husband through a twist of fate in August 2003, and was engaged to him four months later. But whether you're waiting for the one or have already settled into a committed partnership, sometimes love can be confusing.
So in honor of Valentine's Day, Keller will be taking your questions from 10 am pst/1 pm est to 11 am pst/2 pm est on Tuesday, February 14, 2012 in a free live Q&A. For the first half hour, we'll be focusing on people in relationships -- then we'll shift the focus for the second half hour to singles.
There are several ways participate and ask Sophie a question.
To ask Sophie a question on VOKLE:
Simply click the red "Join Event" button and login through Twitter, Facebook or a VOKLE account.
Click the "Ask A Q" button in the bottom right corner.
You have a choice of submitting either a text question, or asking your question via live video with your webcam. (Be sure to wear headphones and connect your computer to the Internet via an ethernet cord.)
To ask Sophie a question on Twitter:
Tweet questions to @healthyliving using the hashtag #AskSophie
Don't worry if you miss the live broadcast. A recording of the event will be available later in the day.
For more on Sophie Keller's books: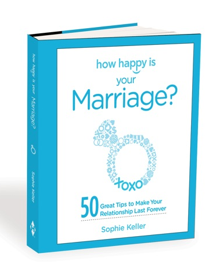 Check out "How Happy Is Your Marriage"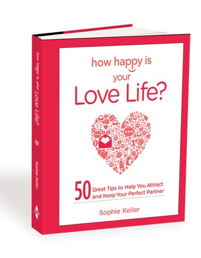 Check out "How Happy Is Your Love Life"
SUBSCRIBE AND FOLLOW
Get top stories and blog posts emailed to me each day. Newsletters may offer personalized content or advertisements.
Learn more