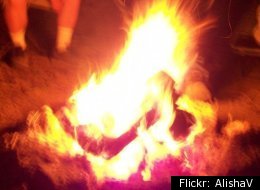 Valentine's Day is for lovers! And for you! Celebrate by taking part in activities that really only make sense on February 14th.
Like a bottom-feeding flat fish whose shiny eye stares up at you from the sand, Valentine's Day is all about making the most of what you have, even if what you have is just surface scum that has drifted down to the bottom of the sea.
To help you have a great Valentine's this year, we've compiled a list of the best ways to spend your Valentine's Day this year:
Great Things To Do On Valentine's Day
Sort all of your books by color.

Go on Facebook and check out pictures of your fourth grade best friend's 'Pirates of the Caribbean'-themed wedding.

Google pictures of kittens and puppies and sloths and turtles and Todd when he was in high school and still had a soul patch and wore those Transitions lens glasses that change color in the sun.

Learn how to spin wool like you've always wanted to and never did, because maybe the person you were with at the time told you that only peasants spin wool.

Start a small fire.

Drink a lot of water. Hydration is important. Water is a miracle.

Consider getting that tattoo of Smurfette on your thigh that someone told you made you seem like a crazy person because you're allowed to be a crazy person if you want to be a crazy person because isn't everybody a crazy person anyway and if he's the one saying you're crazy isn't he the crazy one?

Float in a tranquil pool of water the exact temperature and salinity of the human body and imagine that you are the and the ocean couldn't care less about Valentine's day.
A NOTE FROM HUFFPOST VALENTINE'S DAY EDITORS LINDSAY AND TODD, WHO BROKE UP THIS MORNING: We're not letting today's personal issues affect the quality content we bring you every Valentine's Day! Still, if you want to know exactly how Todd Lindsay Todd messed up, we are keeping a liveblog.