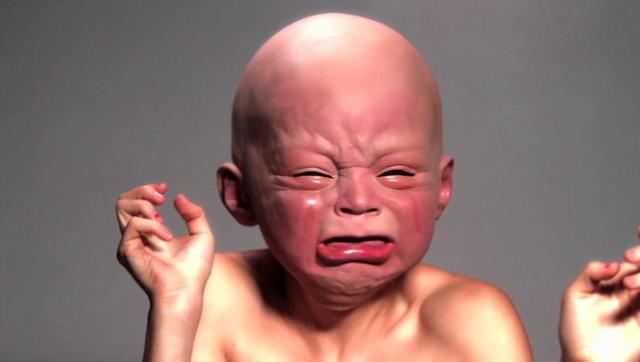 Jillian Mayer
Four Borscht shorts will screen at the South By Southwest Film Festival this March, and the Miami collaborative duo Mayer/Leyva is repping Miami hard.
Miami artist Jillian Mayer and filmmaker Lucas Leyva wrote and directed all four shorts: I Am Your Grandma, The Life and Freaky Times of Uncle Luke, Reinaldo Arenas, and Jacuzzi Boys: Glazin.
Watch trailers for the selected films below.
SXSW selected 135 short films from over 3,300 worldwide submissions. The Life and Freaky Times of Uncle Luke, which recently screened at Sundance, will show at SXSW's narrative program.
In it, the former 2 Live Crew frontman rescues Miami from nuclear disaster, in a homage to French film La Jetee.
Reinaldo Arenas, a classic example of Borsht's mission to highlight only-in-Miami stories, will also screen at the narrative program.
Reinaldo Arenas is based on a true story, in which a dead shark was dragged around Miami as two desperate men tried to sell it. In Leyva's short, which stars his father, the curious story becomes a metaphor for the exile experience.
Jillian Mayer's insane viral video I Am Your Grandma will screen as part of SXSW's riskier programming, Midnight Shorts.
In the video, which debuted at the artist's solo show at David Castillo Gallery, Mayer sends a video message to her unborn grandchildren.
It has a passionate web following and even inspired an I Am Your Lawyer spoof on Web Soup.
SXSW Senior Programmer Jarod Neece told Fearnet.com:
I Am Your Grandma definitely stands out to me as one of the craziest things that I've ever seen, from this art collective out of Miami. There's some really disturbing stuff that they do, but I Am Your Grandma is definitely the funniest thing that I've seen in… It's online now. It's amazing. I think it's one minute. We might play it twelve times.
Also playing at the SXSW Midnight Shorts program, Jacuzzi Boys: Glazin features a host of singing lady parts dressed up to look like Miami band members Gabriel Alcala, Danny Gonzalez, and Diego Monasterios. It got over half a million hits in 48 hours before being banned by YouTube.
When it was first released, rumors circulated that it was the work of six anonymous lady fans who called themselves the Jacuzzi Gals. Looks like it was actually the handiwork of Mayer/Leyva.
YOU MAY LIKE
CONVERSATIONS
FOLLOW HUFFPOST