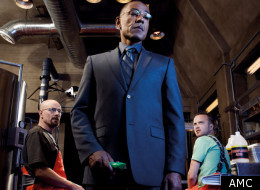 "Breaking Bad's" Giancarlo Esposito, who played meth king Gus Fring in the critically-acclaimed AMC drama, is headed to Greendale.
According to Vulture, Esposito will appear in an upcoming episode as a business associate of Pierce's (Chevy Chase) late father, Cornelius Hawthorne. He began filming this week.
It is unclear how long Esposito will appear on the low-rated NBC comedy, and the episode has yet to receive an air date, since the exact return date for "Community" remains unknown.
Since NBC unveiled its midseason lineup in mid-November, there's been much speculation as to the fate of the critically acclaimed cult favorite. However, during the winter Television Critics Association press tour in January, NBC Entertainment chief Bob Greenblatt expressed his interest in seeing how another sitcom would fare in the quirky comedy's tricky 8 p.m. EST time slot.