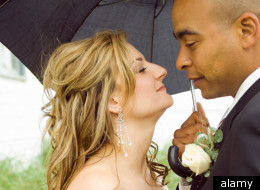 Interracial marriage is on the rise, according to a new report from the Pew Research Center.
The report, which came out Thursday, indicates that there has been a major jump in interracial marriage rates from 1980 -- the first year from which rich Census data on interracial marriage are publicly available -- when just 3 percent of married couples were mixed-race (the last U.S. anti-miscegenation laws were lifted in 1967). In 2010, 1 in 12 married couples in the U.S. were interracial couples, reports the Pew Center.
Click through the slideshow below to see some of the most surprising findings from the Pew report.
Interracial Marriage Study(CLONED)
Asian/white interracial newlyweds had a higher combined annual income than any other pairing, at over $70,000 per year. In comparison, white/white newlyweds earned $60,000 combined and Asian/Asian couples together earned $62,000 on average.

The share of new marriages between spouses of a different race or ethnicity rose to 15 percent in 2010.

The percentage of U.S. marriages between interracial couples rose to an all-time high of 8.4 percent in 2010.

Four in 10 Americans say lifting anti-miscegenation laws was good for American society; three in 10 say it made no difference and only one in 10 say it was bad for the country. 63 percent of Americans say it "would be fine" with them if a family member married someone of another race.

Black men are two times more likely to marry someone of another race or ethnicity than Black women. The opposite is true among Asian men and women.

Hispanics and Blacks who married whites are more likely to be college-educated than those who married within their same ethnic or racial group.

In the Western states, 22 percent of newlyweds married someone of a different race or ethnicity between 2008 and 2010, compared to 14 percent in the South, 13 percent in the Northeast and 11 percent in the Midwest.