Everyone wants a piece of Lara Stone. The model, who has an exclusive contract with Calvin Klein, is a Vogue regular, runway fixture and wife of British comedian David Walliams. But, as we learned in an interview with her on Monday, she has her limits.
We sat down with the effortlessly-chic Alex Prager, who recently joined the ranks of photographers who have shot Stone when the two collaborated on Mercedes-Benz's latest ad. The shoot "went well," according to Prager, "especially considering all the elements that were working against us, the rain, the wind..."
"It was pretty crazy," added Stone, "but I've done bikinis in the snow and rain, it's kind of crazy. In LA, it was freezing." Being a supermodel has its perks, though. "People are usually quite nice to me," she said, "I always get all the heaters and the blankets and everything. I usually end up the only one that's really warm at the end of the day."
Snowy bikini shoots? Can I know more? Apparently not. With the mention of the word "bikini" - a word Stone initially brought up - her publicist shook her head. "Nudity?" I tried. "Don't answer that," Stone was instructed. "Natural curves?" More head shaking.
"Puppies?" There we go. I was allowed to ask questions about cute, fluffy creatures. "We both have dogs!" Prager exclaimed. "I've got a puppy," Stone added of her pet Bert, then, pointing at Prager, "She has an old dog." Giving up, I wished Stone the best on walking for Calvin Klein and asked if she would ever do a photoshoot with her dog. "Maybe!"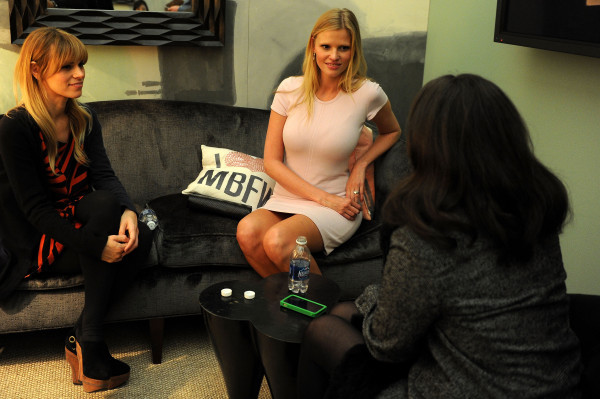 Me interviewing photographer Alex Prager (left) and Lara Stone (center)
in the Mercedes-Benz Star Lounge
-
Lara Stone Style Evolution
SUBSCRIBE AND FOLLOW
Get top stories and blog posts emailed to me each day. Newsletters may offer personalized content or advertisements.
Learn more