One man's junk is another man's treasure. We've all heard it before, but seldom do we get examples that exemplify the saying as well as the Boneyard Project at the Pima Air & Space Museum in Tucson, Arizona.
Using disused WWII aircraft as the canvas, a notable cast of international artists have invaded the yard, adding their own flair to the forgotten metal giants.
You can see the first example below: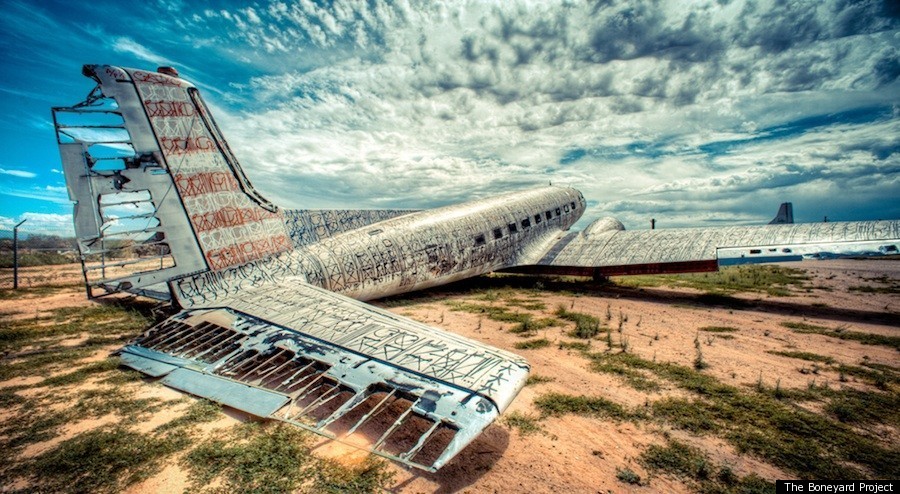 Retna, Warning Shot, 2011, Ink and Latex on DC super 3, 203 x 776 x 1,142"
The concept, coined by Eric Firestone in 2010 after the success of the "Nose Job" exhibition at his eponymous gallery, invites a slew of artists from far and wide to try their hand at decorating their own WWII plane. Curated with the help of Carlo McCormick and Lesley Oliver, the artists represent a range of disciplines and styles. From the symbolic typography of Retna to the dream-like scenes of Nunca and the vivid brush strokes of Andrew Schoultz, the Boneyard Project gives flight to the viewer's fantasies.
In addition to the painted behemoths, work from Firestone's previous "Nose Job" show will also make an appearance. Featuring the work of everyone from Richard Prince and Shepard Fairey to Futura and Tara McPherson, the addition completes the one-two punch combo of aviation art madness.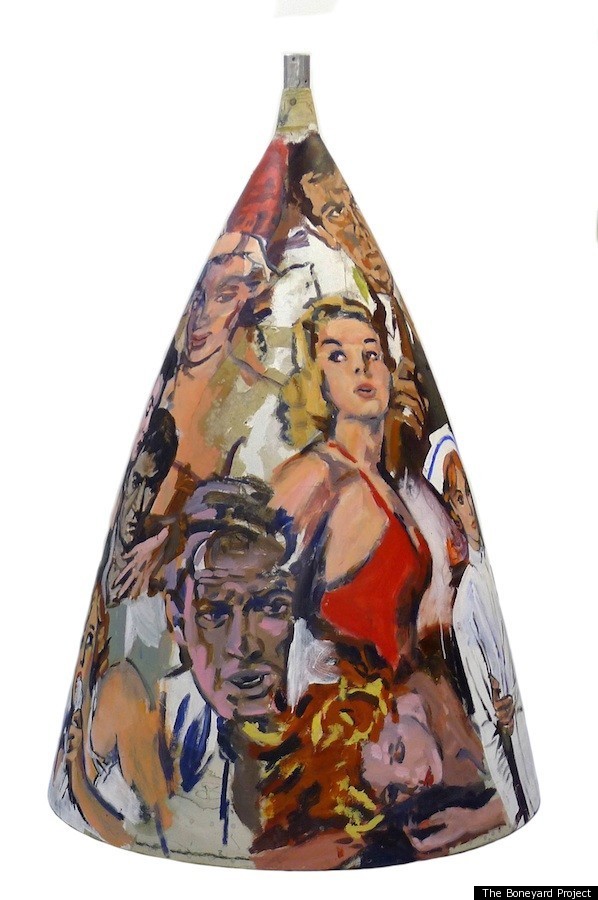 Walter Robinson, For Hearth and Home, 2011, Oil on F101 aircraft nose cone, 58 x 39 x 39"
As a truly inventive experience, the Boneyard Project straddles the line between exploring a different surface for these massive works and paying homage to the paint jobs that your granddaddy's plane could have sported when he donned the bomber jacket. Regardless if you came for the planes or came for the art, the Boneyard Project offers an experience unlike any other. Check out a slideshow of even more awesome plane art below.
The Boneyard Project will be on display at the Pima Air & Space Museum until March 31, 2012
CORRECTION: An earlier version of this article insinuated that all of the planes used were bombers when, in fact, a variety of planes were used.
The Boneyard Project @ Pima Air & Space Museum
BAST, Jerky Jermel, 2012, Acrylic & Spray paint on DC 3 cockpit, 108 x 96 x 96"

Nunca, Phoenix of Metal, 2011, Spray paint on DC Super 3 aircraft, 203 x 776 x 1,142"

Nunca, Phoenix of Metal (front view), 2011, Spray paint on DC Super 3 aircraft, 203 x 776 x 1,142"

Andrew Schoultz, Spy Tiger, 2012, Acrylic on Lockheed V140 Jetstar, 229 x 897 x 1245"

Saner, Warriors of Peace, 2011, Acrylic on C97 Cockpit

Saner, Warriors of Peace, 2011 (back), Acrylic on C 97 cockpit

Crash, Untitled, 2012 Spray paint on C130 aircraft tail, 84 x 96 x 16"

Daze, Bombs over Brooklyn, 2012, Oil, acrylic, and spray paint on F4 aircraft nose cone, 72 x 40 x 40"

Faile, Naughty Angels, 2012, Acrylic on Beechcraft C45 aircraft, 116 x 410 x 572"

Daniel Martin Diaz, Salvation, 2012, Oil & mixed medium on Vietnam era cluster bomb, 83 x14 x14"

Erik Foss, Hiroshima 2012, oil & Acrylic on C140 nose cone, 25 x 25 x 25"

Eric White, Love Crazy, 2012, Acrylic on HH3 nose cone, 24 x 24 x 24"

Jameson Ellis, Stolen Hearts, 2011, F6 Aircraft nose cone enamel, Impacts and perforations, 30 x16 x 16"

Richard Prince, Destroyer, 2011, Collage and acrylic on F106 aircraft nose cone, 108 x 38 x 38"