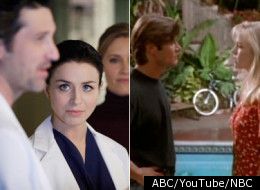 You know you're in for a treat when your favorite TV characters from different shows cross paths. Whether it's to save the life of a patient, a la "Grey's Anatomy" and "Private Practice" (Thurs., Feb. 16, 9 p.m. EST on ABC), or a nice wink and a nod to fans, crossovers usually bring big ratings and big smiles.
Of course, crossovers are always made easier when the shows are spinoffs of one another, like "Buffy the Vampire Slayer" and "Angel," but being on different networks doesn't always put the kibosh on crossover fun. Example? NBC's Detective John Munch of "Law & Order: SVU" (and "Homicide" before that) showing up on Fox's "Arrested Development," and several others.
As "Grey's" and "Private Practice" complete their latest in a long line of Shonda Rhimes crossovers, let's take a walk down memory lane and look at some of the most memorable crossover episodes in TV history. From "Cheers" and "St. Elsewhere" to "Full House" and "Family Matters," these are some of our favorite TV crossovers.
There were many, and we mean many, "Buffy the Vampire Slayer" and "Angel" crossovers that we loved, but one of the best had to have been when Faith broke out of prison in "Salvage" to fight Angelus. The crossover was capped off when Willow went to Los Angeles to help give Angel his soul back and whisk Faith to Sunnydale to prepare for The First.

Two '80s TV juggernauts (Gary Coleman's "Dff'rent Strokes" character Arnold and Ricky Schroder's Ricky from "Silver Spoons") shared the small screen, to great results, on "Silver Spoons." Before the Internet and during the Pong craze (check out the joke at around 5:00), young Ricky shows Arnold how to hack into the US military database -- though he doesn't call it "hacking," he calls it "visiting." In what some might call a divine look into the future, these two child stars somehow infiltrate a military mainframe on a TSR-80 Color Computer, otherwise known as a CoCo1. (Tip of the hat to commenter wintermute740 for identifying!) Even more impressive is how easily they can still bring on the laughs over 20 years later.

Sergeant John Munch (Richard Belzer) is no stranger to crossing over, having jumped from "Homicide" to "SVU" seamlessly. Since then, the character Munch has appeared on at least 10 other shows, including "X-Files," "30 Rock," "The Wire" and two of the other "Law & Order" series. But his funniest turn was on "Arrested Development," playing a crafty cop posing as a scrapbooking professor who's trying to trick Tobias Funke (David Cross) into making beautiful memories out of his family's documented illegal activities. Hey, it worked for Kenneth Lay!

When Captain Jack Harkness (John Barrowman) showed up in the first season of the rebooted "Doctor Who," he was a swashbuckling and sexy breath of fresh air. His spinoff show, "Torchwood," has been uneven, to say the least ("Children of Earth" was deservedly acclaimed, "Miracle Day" was a gigantic mess), but when the former con man turned up in the TARDIS, Jack was generally a welcome presence (and at times, a nice counterbalance to Christopher Eccleston's more serious Doctor).

When Stephanie Tanner (Jodie Sweetin) needed glasses in Season 4 of "Full House," there was only one person who could talk her down from the trauma: "Family Matters'" leading geek Steve Urkel (Jaleel White). In the 1991 episode -- which originally aired right after a "Family Matters" installment that ended with Steve using his jet pack to head from Chicago to San Francisco -- Urkel was D.J.'s friend's cousin who became Stephanie's bespectacled confidant. But that wasn't the end of Steve's T.G.I.F. series skipping on ABC: He also headed to "Step By Step" later that year after his jet pack found him in the Lambert's backyard. Somehow, Steve wound up taking Al to the dance. (And yes, he "did the Urkel.")

Before we became familiar with the Melrose Place complex and the infamous courtyard pool, "90210s" Kelly (Jennie Garth) was in a relationship of sorts with the much-older Jake (Grant Show). Of course, dating a teenager is frowned upon when you're in your late 20s, so we only saw Kelly on "Melrose" for two episodes, but the shows remained close -- "Melrose" went on for seven seasons, and for several of those, it conveniently aired immediately after "90210."

These two comedies crossed-over in "The Apartment" episode of "Mad About You," when Paul Buchman (Paul Reiser) revealed to his wife Jamie (Helen Hunt) that he still hadn't given up his bachelor pad. He'd been subletting the place -- to some guy named Cosmo Kramer (hi, Michael Richards!). When Paul went back to the apartment to officially sign over the lease, he asked what ever happened to "that Jerry guy" who lived across the hall, and Kramer replied, "He's writing a sitcom for NBC." Man, we love when things get meta.

Jon Lovitz's short-lived primetime cartoon "The Critic" only survived for two seasons, but it was critically acclaimed and pretty darn funny. We first met main character and film critic Jay Sherman (Lovitz) when he appeared on "The Simpsons" as a judge at the Springfield Film Festival, and here we see him interviewing movie star/Springfieldite Rainier Wolfcastle. Lucky for us, Lovitz continued his work on "The Simpsons" as various characters, including Marge pursuer Artie Ziff and art instructor Professor Lombardo.

The titular star of "Sabrina The Teenage Witch" made her way into the rest of the T.G.I.F. line-up in 1997. It all started when her snarky black cat Salem swallowed a "time ball," causing the show to travel between its then-current '90s and the psychedelic '60s. But it didn't take long before Salem found himself in "Boy Meets World" where he stirred up trouble. After Mr. Feeney's World War II lecture, Corey and Co. were transported back to the '40s. Of course, the feline (and Sabrina) eventually wound up in the '50s with the cast of "You Wish" and then over in the '70s on "Teen Angel." Sadly, the '80s were overlooked.

This was a sweet crossover for a couple of reasons: It allowed Det. John Munch (Richard Belzer) to share the screen with the Lone Gunmen in an episode that explained the origin of the conspiracy-obsessed "X-Files" trio, and it also allowed the Baltimore cop to make yet another appearance on a TV show. After first appearing on "Homicide: Life on the Streets," the acerbic Munch has also turned up in several other shows, dramatic and comedic (see our "Arrested Development" crossover writeup). That's the kind of police presence we can get behind.

"The Bob Newhart Show" featured Bob Newhart as a Chicago psychiatrist named Robert Hartley. Meanwhile, the sitcom "Newhart" cast him as a Vermont innkeeper named Dick Loudon. In one of the best -- and certainly most memorable -- series finales of all time, we come to realize the the entirety of "Newhart" (all 8 seasons!) was actually just a dream, as Robert Hartley wakes up in the middle of the night and turns on the light, only to find he's in bed with his wife Emily from "The Bob Newhart Show."

"Private Practice" started as an episode of "Grey's Anatomy" that followed Derek's ex Addison (Kate Walsh) to Los Angeles to start a new life. Since the spin-off series premiered back in 2007, there have been several crossover episodes back-and-forth between creator Shonda Rhimes' two worlds, usually surrounding big medical cases.

Sharing a universe really comes in handy, especially when dealing with Greek gods. Xena (Lucy Lawless) and Hercules (Kevin Sorbo) often clashed with the same vengeful deities, but it all came to a head with the birth of Eve, Xena's daughter. Hercules heeded the call of Xena and Gabrielle and helped set forth the twilight of the gods by killing his own father.

After eight seasons on NBC, the hit medical drama "ER" had it's first and only crossover episode with the much lower-rated drama "Third Watch," and it was about as straightforward as a crossover can get. The plot focused Dr. Susan Lewis (Sherry Stringfield), who had just returned to her old job at Cook County General in the wake of her sister Chloe's recovery. When Susan gets a chilling call from her 6-year-old niece, Susie, telling her that her mom was in bad shape, Susan hops on the first plane to New York City, where she works with Officers Faith Yokas (Molly Price) and Maurice "Bosco" Boscorelli (Jason Wiles) from "Third Watch." Unfortunately, the two-night event served as an unfair reminder of what Susan Lewis had been through with her drug-addicted sister in "ER," as in the end, Chloe runs off with Susie, leaving Susan to once again question their whereabouts. Not every story has a happy ending.