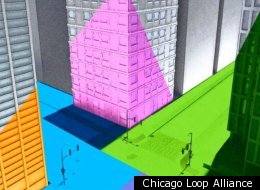 Following Kay Rosen's "GO DO GOOD" poster series and Tony Tasset's fiberglass "Eye," the Chicago Loop Alliance announced Thursday night that its next public art installation will come from multimedia artist Jessica Stockholder, who chairs the University of Chicago's Department of Visual Arts.
"My idea is to fill an intersection with color," Stockholder told the Chicago Tribune of the installation. "That will include the road and the sidewalk and up the building, so there's a cubic volume of color in the intersection wedged between four corners and four buildings."
Stockholder says she plans to "wrap" an as-yet-unannounced intersection on State Street with brightly-colored painting, fabric and sculpture, according to the Chicago Sun-Times. She describes the project as an homage to fabric artist Christo, who has done similar installations in New York and Berlin. The work is meant to create a landscape that looks like an animated film.
The installation is to be unveiled in June.
Stockholder has a history of bold outdoor installations, including projects displayed in Madison Square Park in New York and Laumeier Sculpture Park in St. Louis, according to her website.
"I began, and still do begin, with a love for color and unrelenting interest in the intersection of a pictorial way of looking, (or thinking,) with the physical matter of the body and the materiality of things in space," Stockholder says of her work in her online portfolio.