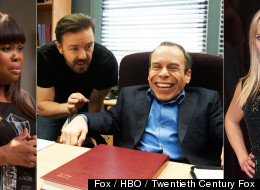 In the third installment of our weekly roundup of snarky, harsh, and at times excessively brutal reviews, a critic proclaimed "Glee" a show about absolutely nothing, McG's rom-com "This Means War" was labeled canned spam, and Warwick Davis and Ricky Gervais' "Life's Too Short" ended up being too awkward.
This week, we've pulled in reviews from Washington Post, Publisher's Weekly, and our friends at HuffPost to get the most brutally honest commentary on the latest movies, TV shows, and books.
Let us know who you think deserved the blast, and who you think critics should ease up on in the comments.
In "Ghost Rider: Spirit Of Vengeance," John Blaze (played by Nicolas Cage) is appointed to stop the devil, but according to SFX's Jordan Farley, the followup to 2007's "Ghost Rider" isn't exactly a success story. "Spirit Of Vengeance is madder than a line of designer guinea pig pyjamas and possesses the energy of a pre-schooler on a diet of candy floss and insulin shots."

Throwing a bunch of attractive people like Reese Witherspoon, Chris Pine, and Tom Hardy in front of the camera and adding a storyline about CIA agents and sex is usually a recipe for some kind of success. But according to The Washington Post's Ann Hornaday "This Means War" was pretty preposterous. "From its opening scene of a raid in Hong Kong to the romantic rivalry that transpires back home in Los Angeles, "This Means War" proves to be little more than the canned Spam of the movie world - bland, over-processed and cheap, even when it's spending millions engulfing highways in balls of ludicrous flame."

From catchy musical numbers to dark, divorce-related subplots, NBC's "Smash" has its selling points. Unfortunately, Julia's son Leo (played by Emory Cohen) could used an acting coach. Inside Pulse's Jill Mader's commentary: To get the elephant out of the room right away, one major low is the teenage son of Julia. Wise up and recast that part, Smash showrunners, recast it now! "Wooden" doesn't even begin to describe how clumsily he delivered his lines. How would you even critique a performance like that? "Um, could you maybe try, you know, acting, rather than reading these lines as though you're seeing the words for the first time and also have never experienced emotion?"

Ricky Gervais and Warwick Davis are funny guys, but HBO's life's too short falls a little, well, short. Here's The Huffington Post's Maureen Ryan's take: "There is awkwardness and idiocy on display in "Life's Too Short," which stars actor Warwick Davis as a hopefully inaccurate version of himself, but almost none of it is funny, much of it is off-putting and all of it is pointless."

After 10 seasons, one would think the "American Idol" judges would know have this down, but according to HuffPost's Laura Prudom, they've lost their ability to count: "I'm mostly just baffled that the 'Idol' producers got away with stretching out the drama this long; we saw solo cuts, group cuts and another round of solo cuts in Hollywood, followed by Day 1 group cuts, Day 2 group cuts, and another round of Day 1 group cuts in Thursday's episode. Were the judges really so incapable of reducing 309 contestants to 40 that they couldn't have settled for one group number and one solo between Hollywood and the live rounds? At the end of this episode, the tally of remaining contestants still stood at 42 instead of 40, so at this point I'm just wondering if the judges never learned how to count."

As the musical teen soap opera chugs on each week, HitFix's Ryan McGee has concluded that its storylines lack any sort of focus. "Absolutely nothing I've described really related to the "greatest love songs" theme laid out at the beginning of the hour. Instead, the episode dealt with teenage marriage, the separation of church and state, and a really bizarre (but apparently facetious) foray into immigration reform (Rory lied about deportation to mack on Sugar? I'd give him props, but I had to look up his name because he's said two words all season.) Glee tries to be about everything and ends up being about nothing."

It's not often that you come across a published book that makes next to no sense, but apparently Dale M. Courtney's "Moon People" is the exception. Here's what Publisher's Weekly Gabe Habash had to say: "The prose astounds. It is something to be studied... Sentences start, seem like they're going somewhere, but then dead end, calling to my mind The Escalator to Nowhere from The Simpsons. It's a grammatical train wreck, but somehow Courtney's spelling is fairly impeccable. At times, it seems like the prose is sniffing around the general area of coherence, only to plunge into complete nonsense ("they woke up starring at each other with a big smile on each other faces"), sort of like the way you would if you had to ad-lib a presentation about dinosaurs, knowing only what you knew about dinosaurs from elementary school."