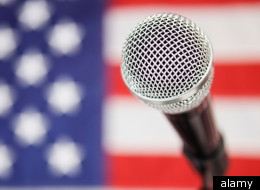 A wide-ranging account of American English, Richard Bailey's "Speaking American" investigates the history and continuing evolution of our language from the sixteenth century to the present. When did English become American? What distinctive qualities made it American? What role have America's democratizing impulses, and its vibrantly heterogeneous speakers, played in shaping our language and separating it from the mother tongue? Bailey asked himself these questions, now it's time to ask yourself how well you really know your American English. We've composed a quiz for some Friday fun. Can you speak American?
Do You Speak American?
How much do you know about America's langage history?
1) What's "the blab of the pave"?
*
A description of the talk of Okies and others moving west during the Great Depression, typically used by urbanites in a derogatory way
A popular expression for how young "delinquents" talked in Northern California during the 1950s
Walt Whitman's description of the way New Yorkers speak
A description of the way cement settles in intense heat used in the South, particularly around New Orleans