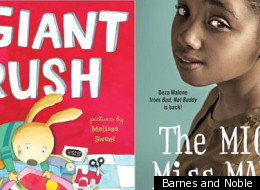 Finding the right book for your kid can be a challenge. But if you guess right and keep new ones coming, you may be on your way to raising a lifelong reader.
Every month we highlight a few books for different ages -- some exceptional titles that could be the perfect thing to perk your kid's interest, get your reader hooked on a new author, or rediscover an old favorite. Here are our picks for February:
Putnam Juvenile | $11.55 | Amazon.com For kids 5 to 8, there's A Giant Crush by Gennifer Choldenko, author of the Newbery Honor Book Al Capone Does My Shirts. This charming Valentine's Day-themed picture book features a very tall bunny who fears the girl bunny he likes doesn't like him because he's too "giant." But he secretly prepares a Valentine for her, and, with his friend's encouragement, finally approaches her. More than just a holiday book, it captures the angst and anxiety of a grade-school crush and underscores the value of a supportive friend.

Wendy Lamb Books | $10.87 | Amazon.com For middle graders, there's The Mighty Miss Malone, by Christopher Paul Curtis, author of Bud, Not Buddy (which won both the Newbery Medal in 2000 and a Coretta Scott King Award). Set in 1936, the novel features 12-year-old protagonist Deza Malone, who was introduced in Bud, Not Buddy and is unforgettable here as she searches for her father -- gone missing after he left home to find work -- and won't let the Great Depression, poverty, or racism get her down.

Dutton Juvenile | $9.45 | Amazon.com For teens, there's The Fault in Our Stars by John Green, a heart-wrenching, powerful novel narrated by a teen dying of cancer. It's mature and a bit gritty, with candid descriptions of teen patients' physical suffering. But it's a wonderfully original and honest love story about kids who choose to seize the moment and grab some happiness rather than give up because of their illness. For more suggestions, check out our recommendation lists, including Award-Winning Books, Strong Female Characters in Books, and our reviews of the latest chart-toppers on the New York Times Best-Sellers list.