White Supremacist Richard Treis Worked With Black Gang Member Robert Swinney To Make Meth In St. Louis: Cops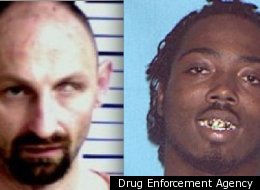 ST. LOUIS (AP) -- Authorities allege that the quest to make methamphetamine has led to an unlikely alliance -- a white supremacist and a black inner-city gang member.
The St. Louis Post-Dispatch reports that 38-year-old Aryan Nations member Richard Treis and 22-year-old Robert "Biz" Swinney are among seven people facing federal charges for conspiracy to make meth, distribution of meth and other drug-related crimes.
Police and the Drug Enforcement Administration say Treis joined the Aryan Nations while in a federal prison for previous meth-related crimes. They say Swinney is a documented gang member.
Police say Swinney mobilized at least 150 people over two years to sidestep purchase restrictions on decongestants containing pseudoephedrine, a key meth ingredient, and provide the pills to meth cooks like Treis.